I realize that I've been spending most of my recent days just wasting time and not accomplishing anything. Like I stated in the crossed off section of my entry from last night, I have more than enough time and capability to accomplish anything in a day, the problem is how much energy I have. Well, the energy doesn't matter. I'm going to force myself to complete any tasks or assignments I have no matter how much effort they take. I'm typing this up in the morning at 8:01 AM, so let's see if I'm able to maintain this mindset throughout the entire day.
But yes, I have school homework due tonight. I have another education related big project due on Monday that I haven't started yet. I have projects, documents, meetings, emails, and other work related things due on certain days that I have to make sure are completed by that date. Combine that with driving back and forth through traffic, writing an entry for the day, talking to Obs and making sure she's doing well, working on our book together, eating food, and other necessary responsibilities throughout the day; it's all a little bit draining.
Yet I need to get everything done. I don't think it's a problem at all actually, I'll write a schedule for the day much like I used to do during some of the most productive periods in my life. It's a big cheat in life, as long as you follow a set schedule in a day, you get everything you want accomplished.
8:00 – 8:30 = Plan schedule for the day
8:30 – 8:45 = Shower
8:45 – 9:00 = Eat
9:00 – 10:00 = Work on CS 1101 Programming assignment
10:00 – 10:30 = Drive to work
10:30 – 5:00 = Work
         – Work on tutorial document (I'm intentionally being vague on certain task names)
         – Complete the 21 apps small project
         – Attend meetings
         – Work on finishing/tweaking large project
5:00 – 6:00 = Drive home
6:00 – 8:00 = Work on CS 1101 Programming assignment
8:00 – 9:00 = CS 1101 Self-Quiz
9:00 – 10:00 = CS 1101 Learning Journal
10:00 – 11:15 = Website Portfolio education project
11:15 – 11:30 = Obs' and I's book
11:30 – 12:00 = Journal entry for the day
I'm invited to a potluck tonight which I've attended the past two years, and I'm going to skip it this time. Same with a Christmas gift exchange party on Friday, I will have to skip that event because there's not enough time for me with this schedule. I will work on the journal entry throughout the day, because I'm in front of the computer most of the time, there's not a reason why I'm not able to write in the entry a few words throughout the day.
On my old Macbook Pro which I've sold recently for $1450, I used to keep a schedule like this for all my work related tasks. I found it so debilitating though when I would get so much done yet I didn't see a raise or promotion or anything (well I'm seeing a promotion now, but this is months after the fact), so I stopped keeping a schedule. There was a special filetype I created: .moes, a text document that stood for: "Megg's O…. E…. Scheduler" I don't remember what the O or E stood for, but you'd write a schedule in the format above, and after opening it up in a certain text editor program, the colors would change highlighting the time, the task, and status in different colors making everything appear neat and clear. Anyway, shower time.
—
Well I just finished my CS 1101 Programming assignment in 50 minutes, 10 minutes before before heading off to work. I dedicated 3 hours of the day to it, I was able to complete it all in under an hour. I'm not changing the schedule however, that extra 2 hours and 10 minutes of time is still well needed for the other tasks. I will simply start some tasks earlier than planned. Right now since I have 10 extra minutes, I'll dedicate that to resting.
—
I'm at work now and I got here just 2 minutes before 10:30. That was really cutting it short. Since I left after 10 AM I knew there was going to be no traffic, so I thought 30 minutes was plenty of time. But considering I had to pack up, drive, park, walk to the building, and take the elevator; all those little activities add up. I'll dedicate 45 minutes to driving to work in the schedule for tomorrow.
And I already greeted everyone, small talked for a bit, and started working on work related material right away, but I checked my email and saw that Obs replied to my entry from last night.
—
I'm not messaging her right now, replying to the comment, or communicating to her in any way, but her reply really touched me as I read it and I thought it was really sweet.
She commented that I wrote a better description of our conversation last night than she did, adding that she could have added a lot more but was really thirsty and we talked for way passed the time she was even supposed to be on the computer. She then rephrased her description of us having a "pretty good" conversation to us having a powerful bonding experience with each other which was just a strong start to more interesting and worthwhile conversations in the future. I couldn't have said it better, I fully agree 🙂
Well I want the best for Obs' and I's future. We're working on a book together right now, and are definitely planning on working on more projects in the future. We both have our own separate goals that we want to accomplish, yet we also have our own goals we want to accomplish together.
I'm getting a sense of what she does and feels throughout the day by reading her journal, but I'd like to mentor her at her prime age so she can become the best of what she can be later in life and much better than me when she gets to my age. I know what she should do and how she can get there, I just need to be there to keep her on track on a daily basis. She has the right mindset and beliefs, she wants to live a meaningful life, and she has an awesome and supporting partner. She also feels the same way about me and just wants the best for me as well. I think we're both going to accomplish a lot together in our lives as long as we stay focused and keep each other on track.
The book we're writing together is just another way for us to bond and become closer to each other. At the same time I'll mentor her throughout the process and give her useful advice. The book we write together will give us a better understanding of each other so we can determine how to better support each other more later on in the future. Once we're both done with the book project, we'll both be published authors. She'll be a published author as a teen, giving her a leap advantage compared to a majority of anybody who's ever lived. And this is a cool story we're writing together of our lives since we both keep track of our story as it unfolds within our journals.
We will both be dead someday Obs. That is something that will inevitably happen whether we want it to or not, you may not feel it as much because you're still very young. We're both young and it's awesome that we met while we were young. Let's try to live as long as we can and let's make the most of our lives while we're still here. Despite today feeling like it will never end, all our days come and go quickly, and four years will be here before we know it, and forty years will be here and gone again without our slightest realization. The quicker we realize that truth, the quicker we will be to appreciating the value of every second.
—
Well I just had the potluck. It occurred at 12:00 PM today instead of 6:00 PM like in the previous years I've been here. It wasn't bad, a lot of people brought in their homemade creations, but I didn't bring anything this year because I just didn't know.
Tomorrow is also apparently the White Elephant gift exchange day and I haven't bought any presents yet. It is out of the way, but I might be able to get something tonight considering I have two hours of my schedule cleared up.
—
I'm about to head out. Obs and I texted a few times since the potluck. I told her I'd try to back up all of her entries by tonight in case the website goes down.
—
It took a while, almost two hours, but I was able to create a program that quickly saved all of an author's entries into separate text documents. I entered Obs' name and it generated 298 files for her, well 294 actually, not sure where the other 4 went or if she skipped a few entries.
I gave Obs an assignment to reply to and write her own version of this paragraph:
"We will both be dead someday Obs. That is something that will inevitably happen whether we want it to or not, you may not feel it as much because you're still very young. We're both young and it's awesome that we met while we were young. Let's try to live as long as we can and let's make the most of our lives while we're still here. Despite today feeling like it will never end, all our days come and go quickly, and four years will be here before we know it, and forty years will be here and gone again without our slightest realization. The quicker we realize that truth, the quicker we will be to appreciating the value of every second."
I wrote that paragraph this morning with the sun shining so brightly and it seemed like the night would never arrive, yet the night is here now. That's the same concept with death, Obs. It feels like it won't be here, but it will be. Let's not have any regrets. I'd like you to reply and write your own version of it, make sure it involves the two of us, and then I want to put the two paragraphs side by side in a computer wallpaper as a reminder to live 🙂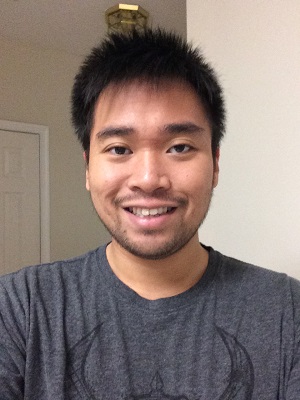 Selfie for the day