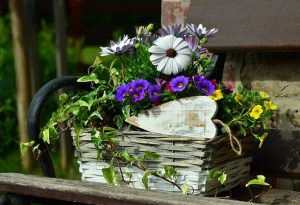 Spring is almost here, and if you are anything like me, you are desperately waiting for the warm summer days to come back. And while it is still fairly chilly outside, you can still get your home ready by putting out your best spring decorations. Here are some spring decor ideas you can dive right into.
Flowers, flowers, and more flowers
Nothing says springtime like flowers all over your home. One idea is to get some mason jars and paint them with your favorite spring colors. Then you'll want to hang them up with some fancy rope on your wall. Some people prefer to put these in their homes while others like them right outside the front door. Then, you can put some spring flowers in there to brighten up your home. If you get fresh flowers, it will be beautiful and smell nice, but you'll need to remember to water them and change them out regularly while fake flowers can stay in there all summer.
Welcome your guests
The next thing to consider is that you can make your guests feel like spring is here with the right wreath. An idea of something you can do is make a flip-flop welcome sign. Get four pairs of flip flops from the dollar store, and glue them together all in a row. Then you can put the letters for the word WELCOME across them. Many people like doing this with their kids because it gives their kids a chance to help decorate and bring them in on the spring feeling.
You can also make other types of wreaths using flowers, ribbon, greenery, or anything else that makes you think of spring. Just remember spring is about bright colors, so use them in your decorating.
Lemons and Limes
Another great way to bring in the feeling of spring is to use lemons and limes in your decorating, though you should probably stick with the fake stuff if you want to keep the decor around for very long. One idea of something you can do is get a small, fake lemon tree to use as a decoration on your table. Another idea is to get a cone shaped piece of styrofoam and glue lemons or limes up it to create a cute centerpiece.
Banners
You can literally write out the word "SPRING" or just put up a colorful banner in your home as well. They could be draped in your entryway to bring in the spring spirit right when people walk through the door, or you can draper it somewhere else. A lot of people like to drape banners over their fireplaces, as a fireplace mantle can act as a sort of centerpiece to all your holiday decorating. If you hang the banner above your baseboard radiators, just be careful to make sure there is enough distance. Even baseboard heater covers can get hot, so you don't want to have anything hanging directly on them.
Bird Houses
One of the happiest days of the year, I think, is when you start to hear the birds chirping outside again. It means spring really is upon us and brings in quite a bit of hope for warm days ahead. So that's why bird houses make a really awesome spring decoration. One idea is to get a bunch of different simple bird houses and paint them different colors. Then mount them on candlesticks and put them up in your home as part of your decor.
Interior decorating and remodeling news brought to you by ezsnapbaseboardheatercovers.com
Source: lubbockonline.com/re-homes/2017-03-03/five-fun-ways-decorate-spring