IS SOOO FREAKING AWESOME !!!!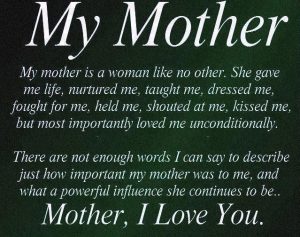 I am so lucky and bless to be brought into this world with an awesome woman as she is !!  Thank you, mommy, for being there for me from the good, bad and very ugly things in my life.  
The last 5 years was indeed  a huge turn of event for all of us since the passing our your husband and   dealing with your health situation,  I am glad  About your cheery positivity  and your   huge faith in GOD  things could have been chaotic.  
I love you mommy and  I'm  proud to be your daughter.