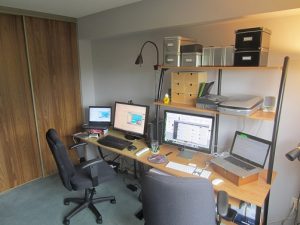 A home office is extremely valuable to your home because it gives you an extra space for working, whether you own your own business or just work at home from time to time. If you have children, they can use the space for doing their schoolwork, and it is nice to have a space where all of your office supplies can be stored. In most cases, it makes sense to add a home office to your space. Here are some things to consider when you are adding your home office.
Home value
Having a home office or a flex space in your home is going to add to your home value. Even if you don't plan on moving ever again, it is still a good idea to have a home office setup to increase the value of your space.
Remember if you are concerned with your home value, it is be st to have your home office meet all the criteria for a bedroom as well. Make sure there is a window, a smoke detector, and a closet in the room so you can count it as an extra bedroom if that changes your home's total value.
Storage
Most people use their home offices as a multi-purpose space. So while you may use it for occasional days working at home, your kids might use it to do homework. Because your home office has multiple purposes, you want to make sure you have good storage in the space that can hold all the things everyone needs.
Choose a desk that comes with some storage or add storage yourself. You can get cabinets, shelving, or even overhead units to go in your office and hold all the extra things you need hidden away.
Aesthetics
The other thing to consider when adding your home office space is the aesthetic appeal. This includes all your painting and decorating. Choose neutral paint colors. While wallpaper was an eye sore for quite some time, it has actually come back in style again. And you can choose wallpaper options that are easier to remove than the old fashioned stuff, so you can change it out later if you decide you want something else. Make sure you patch up the walls if there are any holes, and get baseboard heater covers to cover up the baseboard radiators and improve the total overall look of the room.
After the space is painted and the wallpaper is up, you can begin decorating. Put in your desk and storage options you purchased, and get some wall decor. Many people prefer to get wall decor that is both design-friendly and functional. For example, you could get a large calendar or paint one on the wall for use.
Seating
Do not forget about seating when you are doing your office space. Even with all the other design features, if you don't have the right seating, you could be missing a lot from the room. Make sure you pick a desk chair that is very comfortable. Opt for comfort over style in this situation, especially if you are going to be spending a lot of time in the office.
If you have room for other guest seating in the space, get something that fits your personality and the overall look of the room. Comfort is less important for seating that rarely gets used, so consider the design element first.
Interior decorating and remodeling news brought to you by ezsnapbaseboardheatercovers.com
Source: countryliving.com/home-design/decorating-ideas/g1430/home-office-ideas/