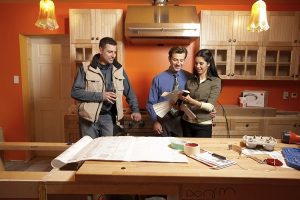 Some people are looking for excuses to redecorate a space. The interior decorating is never finished for these people. Others are paralyzed with fear at the thought of interior decorating. They want to get it over with but they're afraid to take the first step. Here are five common hang-ups that keep people from starting and how to get over them.
Can't agree on a style
Sometimes it's an external conflict between partners, other times it's an internal conflict—a person torn between two or three different decorating styles. Either way it can really drag out an interior decorating project. The best way to get over this is to realize that you don't have to pick and stick with a single style. In fact, the best interior design often borrows elements from different time periods and styles. Instead of worrying about a theme for a space, just pick pieces you like and that go well together.
Sticker shock
When many people actually go out to look at items and get an estimate on prices, they're dismayed at how much it's all going to cost. This is especially the case when trying to decorate a new home and there are lots of major pieces to buy. There are a few ways to get over this hang-up. First of all, free yourself from the notion that you have to buy everything all at once. If you have to decorate an entire home, prioritize each space by order of importance. It's not the end of the world if you're using a card table covered with a nice tablecloth to eat your meals for the first few months. Second, don't assume that every piece has to be brand new. Somewhere in your city there's a second-hand store that has a piece of furniture or two that is just right for your home. Second-hand doesn't always mean inferior quality either. You can also re-upholster, repaint, or re-stain to make old things like-new again. Finally, there are inexpensive ways to redecorate that won't require any major purchases. You can install new handles or pulls for your kitchen cabinets and drawers or you can install baseboard radiator covers.
Can't visualize the end result
This is a particularly common hang-up since it takes lots of practice to be able to see the potential of a space. Even professional decorators have to really work at this. The best way to get over this is to look to the internet for inspiration. Looking at actual finished products to find out what kinds of things you like can give you confidence to move forward. There are even apps that will render a 3D model of your space and let you experiment moving things around digitally before you actually commit to it in real life.
Afraid to buy the wrong thing
Anyone who's ever experience buyer's remorse is likely to have a hard time committing to a major purchase. If you're too afraid to take the leap because you're not completely sure, trust your gut. If you don't absolutely love it, if you have doubts, chances are you will look back and regret buying it. Returning to earlier advice, don't be in a hurry to decorate your home. By giving yourself plenty of time to purchase things, you can get over this particular hang-up.
Afraid you won't like the end result
Similar to the fear of not being able to visualize the end result is the fear of not liking it. If it's your first home or apartment and you're new to decorating, a good way to get over this is to keep in mind that good interior design evolves over years and even decades. You'll never be completely satisfied with the end result but it won't be as terrible as you imagine either. Just keep acquiring new pieces through the years and you'll eventually have the home you've always dreamed of.
Interior Decorating and Remodeling News Brought to You by ezsnapbaseboardheatercovers.com
Source: realtor.com/advice/home-improvement/paralyzed-by-home-decor-decisions/