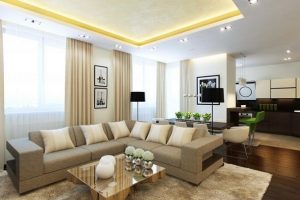 Good lighting is a key aspect of interior design but it's one that's often overlooked. In addition to furnishings and accessories, don't forget these lighting tips to make sure all your hard interior decorating work is well-illuminated.
Smart lighting
Smart lighting is a relatively new development in the ever-growing connected home craze. Smart light bulbs have a small chip embedded in the base that allow them to connect to your home's wireless network. This enables you to control your lighting from your smartphone or tablet from anywhere in your home. You can turn them on and off or adjust the dimness or even the color so you have just the right lighting for every occasion. Your smart bulbs can even be synced with notifications on your smartphone. Though smart bulbs are considerably more expensive than your standard light bulbs they have a much, much longer lifespan since they're LED bulbs.
Layered lighting
Good interior design includes layered lighting so that there's light and varying heights. Layered lighting means that not all the light comes from overhead, but rather, is spread out more evenly through the space. A combination of chandelier or dome lights and floor and table lamps allows you to stagger the lighting at varying heights.
Ambient, task, and accent lighting
Not only should your lighting be layered, it should serve various purposes. Ambient lighting is typically your overhead lighting that illuminates the room. Task lighting is placed as needed based on the things you typically do in that room. It could be under-cabinet lighting in the kitchen for food preparation, a lamp on a night table for some reading before bedtime, or a desk lamp when you need more light than ambient lighting can offer. Finally, you can include some accent lighting to draw attention to a particular piece of artwork or an architectural feature in the home such as an arch.
The right window treatments
No amount of artificial light can make up for a lack of natural light. Instead of dark, thick curtains that block out light, opt for lighter, airier window treatments that still grant privacy but let in more light. If remodeling to get more and larger windows or a skylight isn't in your budget, you can exaggerate the amount of natural light by placing windows strategically across from windows so that natural light is reflected throughout the home.
Lots of white
Just as lots of light makes a space feel more open and large, lots of white does as well. If you're not crazy about white in your interior design, go with a color that's lighter rather than darker. You can paint your walls white or even install white baseboard radiator covers to complete the look. Plenty of lighting combined with a white foundation in your interior design will really make your home feel bigger than it really is.
Interior Decorating and Remodeling News Brought to You by ezsnapbaseboardheatercovers.com
Source: realtor.com/advice/home-improvement/smart-lighting-ideas/