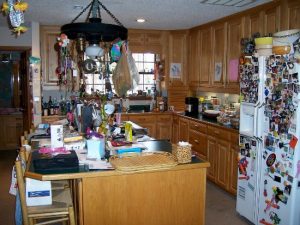 Amateur decorators and designers are bound to make mistakes along the way. After all, they don't have the training that professionals do. But even if you're planning on decorating your home yourself to save money, there are a few mistakes you can avoid. The following five interior decorating mistakes are ones that homeowners should be able to avoid.
The wrong-sized area rugs
Homeowners tend to buy too small when it comes to area rugs. Area rugs are supposed to be the foundation for the space you're decorating. It needs to tie all the elements together. In order for that happen, it needs to enclose everything within it. But many homeowners will have furniture that is only partially on the area rug. With the exception of the sofa, and loveseat (the back legs can be off the rug if they're close to a wall) every piece of furniture in that space should be completely on top of the rug.
Clutter on display
Even if it's not exactly junk, all the little odds and ends that accumulate in every household will look like junk, especially when everything else is immaculate. There's no way to completely get rid of clutter since some clutter is necessary, but it shouldn't be out in the open. Fabric bins, storage ottomans, shoe benches with internal storage, and any other creative storage solution you can find are all great ways to keep clutter out of sight so your interior decorating can really stand out.
Too much matching
Furniture and home decor stores make a fortune on selling complete furniture and accessories sets to consumers. We like things to match and consequently, we enjoy the ease that comes with purchasing a ready-made collection from a retailer. But if you have a matching bed frame, dresser, wardrobe, and nightstand set and a matching bathroom set with shower curtain, bath rug, towels, waste basket, and soap dispenser, your home won't look like it's really yours, it will look like a picture in a catalogue. That's not to say that your home should be a hodge podge of furniture and decor of all different colors, styles, and time periods. You should try to select pieces that go well together, just don't fall into the mistake of thinking everything has to match perfectly with everything else in a space.
Insufficient lighting
Most homeowners think a single overhead light per room is sufficient but light needs to be suffused evenly throughout every room. Overhead lighting won't illuminate all the dark corners so a combination of desk and floor lamps and perhaps even some accent lighting to go along with that overhead lighting can help spread the light around more evenly.
No finishing touches
Homeowners often spend all of their decorating budget on the major pieces like furniture, rugs, and curtains but they don't leave anything left for the accessories or finishing touches that will complete the space. A room will look bare and uninviting if it doesn't have some artwork, decorative throws and pillows, and a few ceramics, figurines, or other decor items in the space, even if it has all the essential elements like a sofa, loveseat, coffee table, and rug. One great finishing touch to consider is installing baseboard heater covers since it's a quick and inexpensive ways to completely transform the look of an old, outdated-looking baseboard heating system.
Interior Decorating and Remodeling News Brought to You by ezsnapbaseboardheatercovers.com
Source: businessinsider.com/design-mistakes-interior-designers-advice-2017-6