Author:
Alexandra.ArmyStrong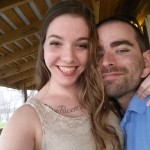 Alexandra.ArmyStrong
I am currently an E-4, promotable to E-5 in the United States Army as a Chemical, Biological, Radiological and Nuclear Operations Specialist. I am hoping to study at Penn Foster Online College to achieve a degree as a Veterinary Technician. My place of employment is as a Security Officer for BAE Systems. I am a bride-to-be to my Marine fiance', Thomas W.