Author:
Lotte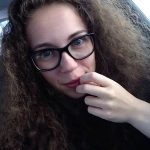 Lotte
"Life is an unequal fight,
the ones who fight the best will survive."
And that is why I'll always be one to die.
But before that happens let me,
travel to my future destination- discover my one and truly love -England,
dye my hair- because I like the sky when there are no clouds to be seen -blue,
work in- the one place I can be myself, surrounded by people like me – a madhouse,
die alone- so no one be should be disappointed after my departure – and let me live,
my fantasy.
Lotte.