Dear Diary,
O M G
(I'm too lazy to change fonts rn hehe so sorry)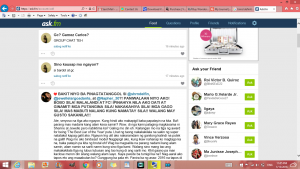 (So that's what you'll see in your ask.fm feed if you were be, haha.)
It hurts so bad, but it feels so good~ yeah~
This is SO WRONG. This is VEEERRY wrong.
But it feels DAMN RIGHT.
Still, in the eyes of the people, IT IS SO WRONG.
I feel like I shouldn't have talked to 'him' in the first place! >.<
But if I didn't talk to him, he wouldn't notice my presence even just as a fan or follower!
I whole-heartedly thank the creators of ask.fm ❤ Thank you ppl for creating such app where you can talk to humans you like without them knowing you 😊
Signing off,
Shane Angel 💕