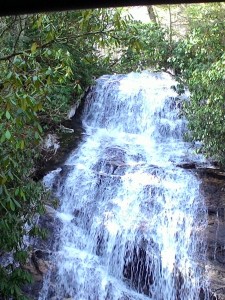 With Bobo at his grandparents house for the week end, it was up to The Man and I to entertain the girls. I had wanted to get out and about today, hoping to hike up Table Rock. I know bringing the girls for that level of a hike would only end up being a nightmare. No biggy though. We are semi new to this area and we, as a family, love to explore!
So I looked up some near by must-see destinations, was in awe of the beauty of yellow branch falls, plugged the address into my g.p.s. and away we went. Estimated arrival time was only 2 hours a way. Perfect.
With car ride tunes and snacks we drove through the country. The scenery was to die for! We saw a zillion plantation style houses and farms. I spotted every type of cow conceivable, donkeys, rabbits, chickens, horses, llamas, rabbits, dogs, cats, even a fox! We rode up mountains. I felt like I was lost among the clouds.
Turns out though I plugged the address of the state park and NOT the trail the waterfall was on. We couldn't find it, but we weren't disappointed.  We saw quite a few waterfalls, creeks, streams, rapids. Trees of all shapes and sizes surrounded us. We drove through tight winding roads and I'd hold my breath. The girls made me laugh so hard that tears slid down my cheeks.
Without meaning too, we drove in a huge loop through the mountain roads. We passed by the trail for Yellow Branch Waterfall on our way back towards home (and more importantly dinner – we were starving!) We parked and looked around, but the hike to the waterfall is about 3.5 miles. We were too hungry for even that. At least now I know where to go.
So be prepared. I'm going back! Another adventure for another day. It's not really about the destination, it's the journey that you really remember 🙂