This is my first entry into Michael and I's Diary. If you are reading this….you are too close.  I asked Michael if he wanted to say anything here … he said he will do it later. Not much of a surprise really. Sooooo I picked up the boy on Thursday. He took forever to eat his dinner… so all we got to do was read the mummy book. On Friday I dropped him off at school and then we hung out at Grandma's and Grandpa's after I got off of work.
On Saturday… we went to see Zootopia! It was super fun. Michael's favorite part was when the sloth's were really slow at the DMV. It was my favorite part too. We both looked at each other and laughed out loud in the middle of the theatre. After the movie, I took Michael home and he fell asleep. He has been having trouble with allergies so I medicated him and he crashed until 630. After that I cooked dinner… and of course he took 2 hours to eat it!! We crashed out watching toons.
On Sunday we woke up too late to go to Church (My fault of course) The big part of the day was going to the park. I taught Michael how to catch a football! We played catch and ran up and down the park. ( I am really out of shape) We then played knights with our swords… he got me really good. Michael then picked up some dandelions and blew them. He really likes seeing them in the wind. I have a mind he is going to be a pretty artistic kid.
We started a new Star Wars Number learning book! He got through the first ten pages with a breeze. We went over the numbers 1 – 5. How to write them and the concepts behind what they mean ( Circling selections of 5 C3P0's and droids!) Definite fun with Dad.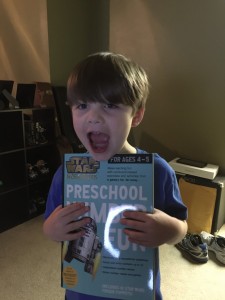 Other than that he has started wiping his own behind and washing himself in the shower. He still needs dads help, but it is pretty neat to see him growing up day by day. He also pumped the gas today which was pretty awesome. He was so proud of himself…. It is these small things that make life worth living…and I wouldn't change it for anything.