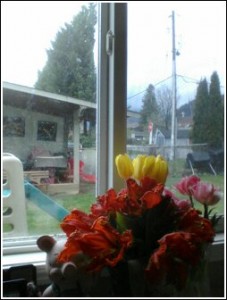 My desk was never gone; it was here the whole time. It didn't feel like I had one, though, because it was covered with all kinds of stuff, & was dirty from spilled water & dirt from a plant that'd fallen over (thanks to my clumsiness). I fully meant to clear it off & to clean it up so that it was usable again, but I never got around to it.
Then this morning, I put some of the stuff into the garbage & the rest into a box to figure out what to do with later.
I normally don't clean on Sundays unless it's work related since it's my day of rest, unless I have to work (which happens occasionally), but I just got wiping stuff up after I'd cleared the thing off, & now it's good to use. I want to polish it or do something with the surface so that it looks nicer, but at least now its clean & practical. Yay!
A few weeks ago, I tidied & cleaned up my home. I live in a ground floor suite & a couple with two small boys rents the upstairs. The owners told us that they were putting the house up for sale, & a few days later, we received word that the realtor was coming to take photos. So that meant cleaning this place up.
It was so crowded with stuff – plastic bins & piles of stuff. It's a small place & I have no storage, & so I'd had everything piled up on one wall right by where I sit right now. The wall where everything is, is about a metre, metre & a half away to the right of this desk.
There's a shed in the backyard, & I asked my landlady if it'd be all right for me to put stuff out there if the people upstairs agreed to it – they're the ones who have use of it. She said that was fine, & the couple said that if they could make room for me, they would. Well, they did, & it's amazing how much room was created in my home! Just by taking out those plastic bins. It's amazing!
I meant to clean off my desk at that time, but I never did. This morning, though, I finally decided to put the miscellaneous stuff on the desk away or in the garbage. That done, it just seemed right to wipe it off right away. It took a while before all the mess was cleaned off, but it was worth it. I also had to clean part of the floor since dusty bits fell down.
Anyway, it's great now to have a good, clean work surface, especially since Camp NaNoWriMo (http://campnanowrimo.org/) is starting this coming Friday 1 April. It happens every April & July, & it's from the creators of NaNoWriMo (National Novel Writing Month, nanowrimo.org). It'll be great to have a good spot – complete with window directly in front of me – from which I can work. It's always easier for me to write & to let my ideas flow when this is so.