I took the ACT today… But I feel that I didn't do very well… 
I had to do a lot of guessing because I didn't know a lot of the science stuff. But, I hope that I did well on the reading and comprehension stuff… I probably didn't though.
Oh, well… 🙁
Well anyway, yesterday I ordered two things:
Some fiber enhanced brow gel stuff (I have very sparse eyebrows and I hate them)
some tinted lip balm from a company called "Hurraw!".
I've never heard of "Hurraw!" but, they have a lot of cool lip balm flavours. Because I ordered the tinted set of three I will have grapefruit, cinnamon and black cherry. I really hope that I'll like theses lip balms because if so, I will try their other flavours. 🙂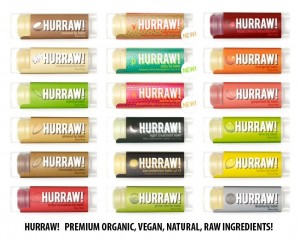 (lol. Free advertising!!)
All of my stuff should arrive by April 15th-21st. I'm really excited to try everything out. 
-Miriam
P.S- I'm enjoying learning Japanese, but I feel like I'm not learning fast enough… I really want to learn the sentence structure(s) and particles and whatnot. But, I guess all of that is pointless if I don't know any words.