Had such a lovely day with my husband and wee girl today! Went to the shopping centre and managed to kit out Mya for the Autumn, and also got myself a few things – I will post photos! Poor husband didn't find anything he liked although he did get some chocolate coconut sweets and a game of table tennis with a guy there who set up a table to celebrate the olympics so he was happy! 
 Mya was so well behaved too, the centre had these wee shopping trolleys with kiddy cars to sit in with a wheel to steer and horn to beep etc so she was happy 'driving' around. Makes shopping with a toddler so much easier! 
We went for lunch too at an awesome buffet place, Mya ate free and she loved everything -noodles, fish, sweet potato fries, vegetables , macaroni cheese and of course jelly and cake! I only managed one plate but Andrew had 3 so he made up for it! 
Enjoying writing again , these family days are the best days I have and it's nice to document even if only for myself!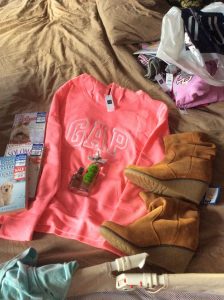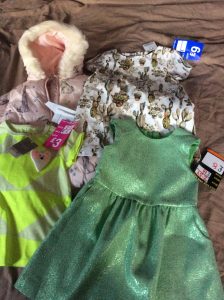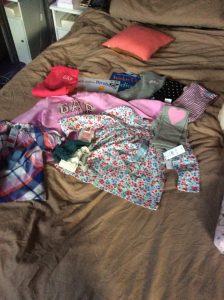 These are the things I bought – first pic is mine – cosy hoodie , 3 animal books (love animal stories /true life ones) , coconut perfume from body shop (smells like summer ) and lastly boots for Autumn from next which I got reduced from £70 to £17! I love bargain shopping 🙂 
the other two pics are clothes /books I got for Mya , the shimmery green dress and cactus dress are my faves! They were all Next /Gap and at least half price or more, so I feel good as even though I bought lots I didn't spend much money at all. Thank god for a husband who drives so we can go to this outlet shops! 
  off to watch some tv and read my book now Mya safely tucked up 🙂 hope everyone has had a good day also X