It's our 2nd day in Lipa, Batangas and this weekend is just carving off every inch of stress that I had for the week that passed. It's tiring and fun at the same time. For the last 3 days, I only slept for like, 6 hours in total. WHAT IS SLEEP YOU GUYS? Pero if you're with the best crew in town, being sleepless is totally worth it. So much sh*t has happened. BTW, I'm already home so I'm just going to share some of the things that happened after my Road rash drama. HAHA.
     After my super smart decision of going downhill without any gear, I got everyone super worried (sorry guys). Frei and a few other friends spent the rest of their afternoon tending to my road rash. I cried. HAHA Pero hindi dahil gumulong ako or nabagok ako, it's because Frei got so mad at me, she presses my wounds as hard as she can while saying "ano? ha? masakit ba? kung tutuusin kulang pa nga yan eh! para naman hindi alam neto ang basic rules of playing. you mofo". I didn't bother arguing with her 'coz we both know that she's right. HAHA. But still! Thank you, Pie, for helping me back there. I know you're mad but that only means you love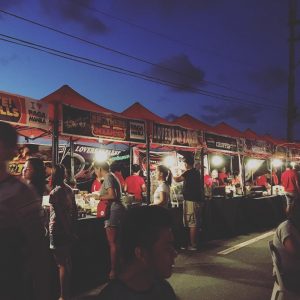 me that much… Aww.. And I love you too. HIHI <3
     Later that day, one of our friend (he's a native from Batangas) got hungry and brought us to the night market. There's this one food stall that we really love, but since there's too many of us and it was nearly their closing time, only half of the crew got some munchies from the stall before they were all sold out. Hungry crew = Grumpy crew. Sho shad. But! Since one of our friend is a trained chef (Gives thy crown to Valerie), we turned everything around and decided to buy some ingredients and went home. 45 mins. – an hour of preparation, we all settled down (FINALLY!) and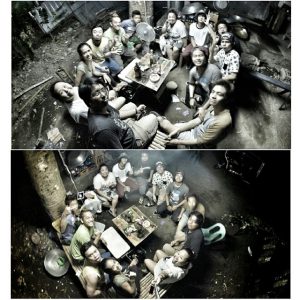 brought some beers on the table. I kinda felt sad 'coz almost half of us already went home (kasi hinahanap na sila ng mga magulang nila HUAHUA) and the half of that half (wow, what is math, Nekke), went to bed early, bummers. But just like the previous post, I haven't got any decent sleep since Thursday which means I'm still sleepless as of this moment. HUHU OMG. But what is sleep if you're with these guys. I wouldn't exchange this over sleep 'coz I love you that much <3. After a few shots, I said that's it, I don't wanna push my body and I'm super tired na. So I left the table, it was already 4 am, I went to our room and fell asleep almost instantly. 6 am, they tried to wake all of us up and without complain, I did stood up, went to the bathroom and washed my face. I can still feel the pagod from the past few days and the small kick of alcohol that we had not 2 hours ago. As I went dow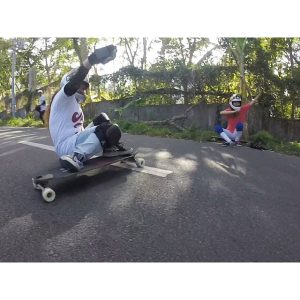 n, the table was filled with food ready to be eaten for breakfast. Walang hiya-hiya, I sat down by the table, sipped some of Batangas' Hot Chocolate and ate my breakfast. 7 am, they scheduled a last stoke before going back to Manila. So yeah, after the incident, I still grabbed my board and geared myself up (to the point na sobrang covered ko na haha). So yeah das me and Frei, Trying to stop the tric. Haha dejk. Hyping up a coleman slide even though my shoulders feel a lot of pain during that sesh (Hapdi bes), I was literally screaming every slide and sh*t. But, you know, Pain just drifts along with the fun an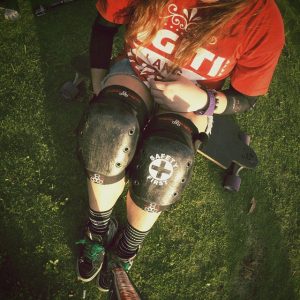 d adrenaline rush that it's bearable. Round 2 felt a bit short 'coz I went home and took a bath 'coz my wounds can feel the sweat and it kind of hurts.. Like a lot. JUJU. Though the house is only a 5-minute drive from our spot, it didn't take long to get there (matagal lang talaga ako naligo kasi ang sarap ng tubig). Here's a post-injured blogger sh*t. (HAHA ANUDAW) with my current feels written on my shirt "Ngiti Lang" and with safety gears YAS! Gotta protect them knees 'coz they ain't 'gon pop on some concrete sh*t no they a'int! Aftermath, I went back on board and played for the last time before heading out to get some muchies.
     Hours passed, it was already Lunchtime. We went to a local restaurant and literally SQUEEZED ourselves from the small venue then 'Parked' our boards on the side (and hoping that no one steals them. HAHA geniuses). After having our scrumptious lunch (wow big words sh*t), we finally decided to go home (kasi hinahanap na rin ako ng nanay ko HUAHUA). I'm just going to post some more pictures 'coz a lot of them were taken from my POV.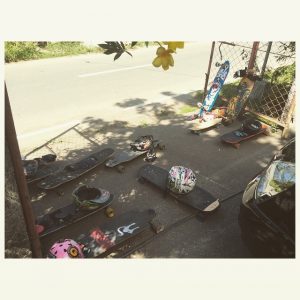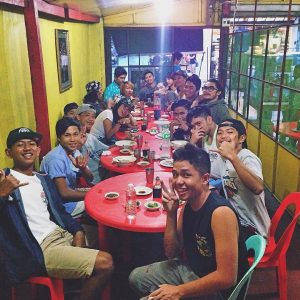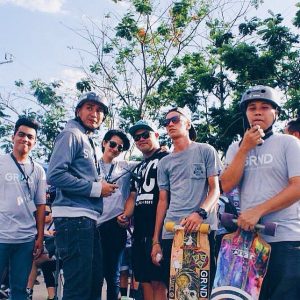 (Frei and ma Bois (kasi lahat daw sila naka grey) – 1st Day before heading home. So Sad that you guys didn't stay long enough to                                                                                       see me rollin' HUHU HAHA)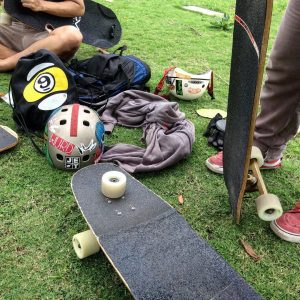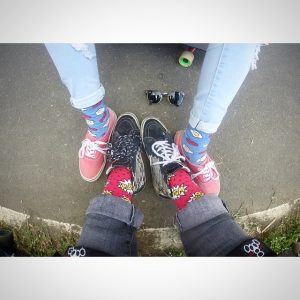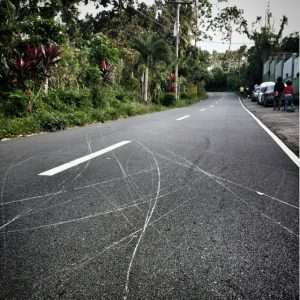 (Some other random pics from our stoked weekend, lead by Sector 9, Rayne and Landyachtz Longboards. WOO HAHA. Famous footfies                   with my baby Pie <3 #landi Also leaving lines from the asphalt where we played. That's how we leave a mark.)
     Thank you, Lipa, Batangas for lending us 5 awesome spots to play. Istokes na istokes kami lahat <3. Pero ngayon, back to reality muna. BABALIK KAMI. . Sa uulitin!