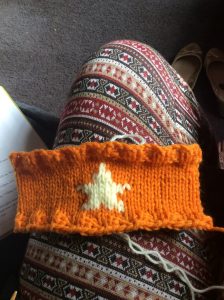 This is a wristband (or it will be once I sew it up) , I'm really pleased with it, it's the first thing I've ever knitted with intarsia (a pattern within the wool) and I'm going to make a few in all different colours, it was so easy and quick! I absolutely love to knit, it's my favorite pastime , so relaxing and so rewarding to learn new things.
 Yesterday I had the hangover from hell, it was terrible. We went to a BBQ all day on Saturday, and I ended up having too much wine and being really sick. It was not fun! I never learn when enough is enough. My best friend came up though yesterday and we went out for lunch which was lovely, she lives in London so I rarely see her, we have been friends for 20 odd years and I love her so much, when she leaves I always shed a few tears! She's one of those rare people that never change, and she makes me laugh and I really am grateful to have her in my life💕
She also introduced me to this podcast called 'Serial' which I'd never heard of, but it's basically a bit like 'making a murderer' about a real life murder case, it's really interesting , I love listening to it while I'm knitting! Mya is having a nap…bliss..