Yellowstone National Park
 I have no words to describe the beauty that Yellowstone National Park contains.  Driving into the park we stop at these very large gates to pay the park fee.  They give you a map of the park and any directions or assistance that you need.  As we're driving we come upon a Lake that is so clear you can see the rocks beneath.  We are both shocked by the temperature.  The temperature is a drastic change coming from almost 100 degrees to low 50's.  Thank God we packed warm clothes and bought warm sleeping bags.  We make it to our campground around 4 pm.  If you have never camped in Yellowstone, make a reservation in advance.  Thank God Dan did this.  Not all of the Campsites take phone reservations, some are First Come First Serve.  The line to get our reservation was very long.  One person had to stay in the car in line and the other person had to wait in line to talk to the Ranger.  After an hour we were able to drive to our site.  Along the way we see an Elk just laying next to a tent.  Insane!  A little ways up we see a Bison walking through the camp ground.  It's so interesting how these animals are so used to tourist, to people.  
Our campsite is beautiful, we have a view of the clear lake. As we are setting up I see large animal feces that could only belong to a Bison.  To be this close to nature and wildlife is an experience I cannot describe properly.  I love it and I want to experience this feeling everyday. 
 The one thing Dan and I do not like about camping is the camp fire.  I know some people will be like, "What!"  But…yeah we both hate the smell and I HATE how it lingers on your clothes and hair.  We were committed to wet wipe baths all week!  I did not want smoke in my hair!  
 That night we both past out from exhaustion. The morning was crisp and chilly, it reminded me of fall mornings.  I cooked up some scrambled eggs mixed with black beans and sweet potatoes, we made breakfast burritos. It was nice to finally eat some real food.  We planned out our day, we decided to hike Bunsen Peak, which is two miles straight up.  We packed up camp and headed out.  The elevation is 8,564 feet above sea level.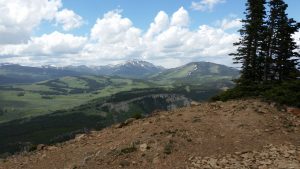 I was in awe the entire walk up.  The trail was very steep, but I was prepared for it.  Dan, who has a great physic and works out, lifting weights only, was not quite prepared.  He had to take a few breaks. I didn't rub it in there, but I will here. We got towards the top and there was a place where part of the trail was covered in snow and ice, that was a little scary.  At a couple points I caught my breath in fear.  We made it to the top and OH MY!  360 degrees around you, nothing but beauty slapping you in the face! Stunning!  
 We sat up there for a bit and then the clouds started getting darker and the wind started picking up.   We made our way down the mountain and midway through it starts hailing on us.  Thank goodness we brought ponchos.  Be prepared for anything!  OH! Side note, make sure you buy good bear spray just in case.  Not the stuff from Walmart, Sierra Trading Post has the best.  By the time we made it to the car it was sunny and the temperature was back to 70 degrees.  The weather in Yellowstone in early June is bipolar. 
  Next, we were on a mission to find a campsite for the night.  That was the only night Dan was unable to book something.  We went to two places and they were both full.  Finally we found a campsite and no joke we were the last site to be booked!  The site was beautiful!  A stream ran through it and the forest was at our backs.  Dan talked to the ranger during the booking and they just had a Momma bear sighting with her cub.  They sent Rangers out to scare it away from the campsite.  That made me a little nervous.  It turned out to be a beautiful day and a quiet evening.  
 The next morning we decided to do one more hike, a 10 mile hike to Fairy Falls.  We start out early in the morning.  There are already a ton of tourist out and about.  Most are walking to the Geysers.  We walk by a couple which are very scary to me as well because two people died in the park from them already this year.  They were stupid and walked off the trails, but still, nothing to take lightly.  So as others are walking to the Geysers we see our trail head and veer off to the right.  This trail leads straight out to open field with mountains surrounding it.  We see Bison in the distance, not too far from where we walk.  After about 10 minutes in I look behind me and see a man following us which scares the shit out of me.  He is catching up to us.  I stop to let him pass and then he asks if he could join us.  Dan and I are very much alike and didn't really want his company but we're not rude people, so of course we agreed.  He had and accent, he was from the Netherlands.  That didn't matter to me all I was thinking about,  is he going to try and kill us?  I knew Dan could take him. If he pulled a gun out, I would take a bullet over being raped or tortured or thrown into a boiling geyser.   We chat it up, he was in the US for work and this was his off time, he didn't really peak our interest much and I don't think we did it for him. He was traveling alone which I found incredibly odd.  After  miles we come to another trail head and you can go left,  back to the car, or go right, which is another 3 miles or so to Fairy Falls.  Thank GOD he decided to go right.
Dan and I still felt good and kept walking to the Falls.  We saw some wild prairie chicken of some sort but not much else.  We were the only ones out there which was a great feeling and a little nerve racking.  As we are nearing the falls and can't help but chuckle, it honestly looks like a giant vagina. Seriously!  It looks like mother nature with her legs spread wide.  It was beautiful….and amusing.  We stop and eat some snacks for about 20 minutes and admire the waterfall.  Then we head out.  The trail on the way back is surrounded by tall trees and you can't see anything else.  I was not impressed with this part and wish we had walked back the way we came.  Finally after about 40 minutes we get out of the trees and have a much better view of our surrounding area.  Our feet were killing us from walking. We were pooped! 
We drive out and head to our new campsite.  One of the best things is that each campsite is completely different and so beautiful.  this campsite is surrounded by huge red rock. Just as beautiful as the last.  Dan and I have become professional campers at this point.  We can set up a tent and air mattress at record time and pack up just as fast.  The remainder of the day we play catch with a tennis ball, play cards and drink beer.  It was a great day and an even better evening.
The next morning we wake up to rain, it's very cold.  We were both in need of a large breakfast and a hot shower.  As we drive away from the campsite we can see that it has snowed.  You can see more snow on the mountains.  We decide to head to the town of Cody which is directly outside of Yellowstone.  Dan and I are craving a nice shower.   We get into town and the temperature is now 80 degrees.  It's nuts you go from snow to summer in an hour or two.  
We stop at several places to check prices and see if they have any vacancies.  Finally we find this incredible hotel that has cabins they rent out.  We got an amazing deal and a huge cabin for less than a hotel room would cost.  Dan and I get ready and go out on the town.  It was a lot of fun.  We walk the strip and stop into as many fun looking places as possible. We were both drunk.  When we drink we like to talk to people.  We stop into the hotel lobby and have a cocktail and you will not believe the giant picture they have in the room as you walk in.  Yep that's it, asses in your face.  I actually kind of love it.  Some perverted man probably created it.  But I think it's great!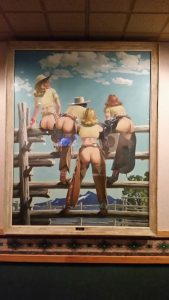 That night we get a good sleep.  That was our last night in Yellowstone.  I sadly say good bye.  It is almost depressing.  As your driving out the land gets less rocky and hilly it turns into rolling hills.  We stay one more night in the badlands but at a different campsite. Once again it's amazing.  Dan and I go for a small hike and take a ton of pictures.  You see and hear cute little prairie-dogs all over the place. I just love them.  Once again!…. we don't sleep a wink that night.  The wind bent our tent completely over, poor Dan thought he had to keep his foot up on the pole half the night to make sure if didn't fall on us.  Closer towards morning I told him to just let it go.  The sky was amazing to look at and we were giddy from lack of sleep and the wind whipping our tent back and forth.  I loved it and the memory it created.
 I recommend everyone go to Yellowstone.  I sorely lack the skills to describe it.  All I can say is, Yellowstone is life changing and I have it locked away in my memory forever.  I dearly hope to see it again, and with Dan by my side.  I love that man.