I gave up on trying to resurrect my game. I'll take the fact that my devices are cutting me off from it as a sign that I am too dependent on it.
I have got to say these Thanksgiving posts on good night journal are cracking me up. We don't celebrate until November and I don't really subscribe to the holiday because of its roots. In my house it's just a family day with food that takes longer to prep more than normal.
On the 22nd I am taking DeeDee to a Haunted House. We're going with a friend that I work with and his husband. Afterwards we'll catch a bite to eat. I love haunted houses so this is something that I'm really looking forward to.
Toothless has been a bit stiff these past few days.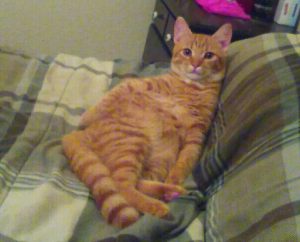 Tyrion has something going on with his eye. I noticed it when I woke up today. He's squinting a lot and his eye is running. I tried to put a warm compress on it, but he's so active he'll only sit still for a minute. His eye indicates one of two things. Either Jake scratched him real good or he's a little sick. Cat's eyes are a big indicator of them having a virus. If I don't see improvement by tomorrow night he'll need to see the Vet.  He's acting like himself so I'm inclined to believe that Jake scratched him.
The Man has been working insane hours this week. Mid way through his shift tomorrow he will be on overtime. This means I will be dealing with the kids, the card, the house work, and my job all on my own.
If I take the kids Halloween shopping tomorrow I can bribe them into cleaning the house. I know I could just make them, but I'd have to take them at some point anyways so I'd like to make them think it is a reward.
Yawn.  Suppose it is bedtime.