Monday, October 31st 2016
Happy spoopy scary Halloween!
Today started off a little stressful. It took me a while to put my Ravenclaw outfit on because of all the layers, buttons and tie. I eventually made it work and had 5 minutes to straighten my hair, so my hair didn't look great, but oh well. I then ran out to catch my bus, but ran back in for my wand, then ran back to the bus (by running I mean walking rapidly cause of my skirt). I caught it in time, though.
I started with alimentation and we planned for our next unity. We are also going to be cooking with leftovers, so our group decided to make couscous salad. I'm not a fan of salad, but I like couscous *shrug*.
Then I had programming and we did nothing, so lunch quickly followed by and I saw quite a few people in Joker and Harley Quinn costumes. Most people who wore costumes seem to have made it themselves, whether by crafting it or going to thrift stores, so I was glad that I saw the effort there. I also went into the haunted house thing at our school, and it was well decorated, even a student was dead, hanging by her wrists, but it wasn't scary. There was someone that grabbed me by the shoulder, but I only get sort of scared if I'm grabbed by the leg or ankle.
I then had math and when I walked in, my teacher just stared at me when she saw my Ravenclaw costume, since she's an HP fan, obvious by the Slytherin shirt she was wearing. I showed her my Elder's Wand and she showed me another wand, and I don't recall which. Most of the class was Kohai and I talking, then a bit of studying. Same thing for technology class.
When I got home I played on the server, studied math, played Dead by Daylight then went downstairs to eat chocolate.
Edit : I decided not to put my costume at first in case someone I knew came across this and recognized who I was, but I decided that the chances are slim, so here it is :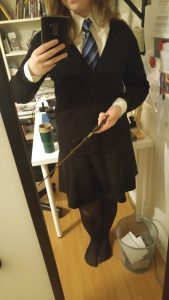 That's all for today.