Ecstasy to the ears. Just beautiful. I'm at work right now, doing my normal work relate stuff. I'm listening to music at the same time, and I love music. Sometimes I listen to audiobooks or audio programs related to business / self-improvement and so on, but it's really hard to. You'll feel motivated while working, and then you realize you can't really do anything about it because you're at work and you have to do work. So I listen to music instead while working.
I'm a huge fan of Claire Elise Boucher's music, I read a little bit through her Wikipedia page, and after citing Panda Bear's Person Pitch as the album that did it for her, I'm listening to the entire album now. Obviously I'm not going to get the same revelation as her by listening to this album, but it's fun to listen to nonetheless. I don't have the same amount of experience as her having made very few pieces of songs, and when she listened to this album, all her ideas from the past that she was thinking about in terms of rhytmn, beats, etc, were probably justified by this album.
Hmm. This album sounds like something someone would listen to while high. I'll keep listening to the entire thing. So far my first impressions are meh. I turned off that music. It was just drums, waves, vocals, etc. Not blowing my mind. Like I said, I wouldn't get the same things she got from it :).
—
While listening to music and getting work done, a friend on skype sent me a message. I mean I talk to a lot of other people, and most of the time I don't mention them at all, but she gave me a really good idea. Her actual name is Natalia but she has a funny online username that I make fun of her for. After our usual exchange of funny jokes making fun of each other, she mentioned that she was on Tumblr browsing around.
The idea came to my head that hey, I should make a Tumblr so I can share my journal posts with the world. But why stop at Tumblr? I should make a Medium account, a LiveJournal (is that still even around?) and any other online website accounts I can think of, and just copy and paste the content I normally write on my site. Of course private posts will just be hosted on my site exclusively, but publicly posts can be pasted everywhere else. And why not?
So after asking her to link her Tumblr account, which I couldn't even look at because it says you need to log in to view, I made her make a promise. I told her that she had to help me become popular on it by following me and liking and sharing all my content. Of course she obediently was like "I will do as you say my master", ha, I'm just kidding. She was like "I can follow you but I only share what I like :)". Which wasn't something I expected, but fair enough. I got a good idea to make Tumblr, Medium, and LiveJournal accounts :).
Anyway, I'm gonna go outside and eat lunch. I have a meeting in around 30 minutes. I'm going to try and take some pictures outside too if I can.
—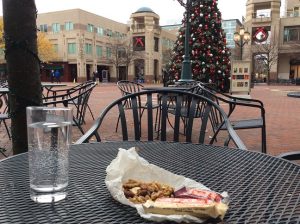 Sitting outside and enjoying my meal
I sat outside for a few minutes, then I realized how cold and freezing it was. So I went back in. The outside view was beautiful, just the weather was not pleasant to sit in for too long. The view wasn't bad from indoors either, it just felt more constricted.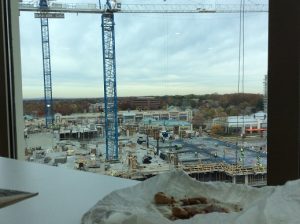 View from indoors
Some co-workers later joined me and we started talking about random topics. We left after around 30 minutes, right when my meeting was about to start. It turns out I didn't even have a meeting, it was rescheduled for tomorrow.
So now I'm back at my desk, returning to work. "The Grind" so they say. I invited a friend to exercise with me today. I'm not sure if I even want to, I was sore on Sunday after barely working out on Saturday. But I'm forced to go because I got myself into this mess. Here's my to do list for the day then:
– Work
– Exercise
– Create accounts on Tumblr, Medium, and LiveJournal.
– Work on Udacity project as much as I can
That's a really simple to do list. Should be no problem getting all the items in that list completed.
I woke up this morning around 9:30 AM, I took a shower, and packed up an item I was returning. Along with this package return, I had another package ready to be shipped after being sold. So I shipped those two packages and drove to work. The drive to work feels like forever, it's really only like 15-20 minutes, but man does the drive last.
I'm going to get back to work now, just wanted to put in what I did this morning. Right now I put my desk into 'standing mode', because you can use it either sitting down or standing up. Now I'm standing up and working. Yay. Just kidding. I lasted maybe 5 minutes standing up, but I sat back down again, it causes my back to slouch and overall I don't feel good doing it.
—
Whew. Time is going by pretty quickly. Just an hour and 40 minutes left until I have to go and pick up my mom.
The music on repeat in my playlist is getting old. I'm going to switch it up and start listening to extremely depressing songs. For some reason, when I'm doing repetitive work like this, it improves my productivity 10 fold.
—
I'm back 2 hours later. I already picked up my mom, we switched driver's seats, and I was dropped off at my office building again. Going to wait for the friend to come by and we'll workout. In the meantime, I'm going to start my Tumblr account. Nat isn't here, she's gone. I'm going to have to go in by myself, post my first 21 days of journal entries, then move onto the next site.
So it turns out I already had an account, except I just have zero activity on it. Still, that eliminated the need to start a new one. I didn't remember my password to log in either, and it was confusing on where the 'I forgot my password' button was. It took me a few minutes to figure out, you have to enter your email address in first, and then the 'forgot password' button shows up. But I didn't even get to that screen, it just automatically said "You need to reset your password :)" I was like, what?!
And how long have I had this account for? It has my old username on it, which I guess I'll keep. But it must be pretty old. Uh-huh, apparently I've had this account since 2012, because when I go to my tumblr page, it says "© 2012-2016". Pretty old.
Well the website claims that it's easy to use… But this is going to take a while to post everything. A couple of hours no doubt. I transferred the first 3 entries to the website and saved them all as drafts. Now my friend is here so I have to pack up and join him at the gym. I published my Day 1 post, and I'll publish the rest once I finish moving them all.
—
This is awesome, I copied and pasted my Day 1 Journal into Tumblr, and it was the coolest thing. I had to resize my images to 25%, but hey, it works.
—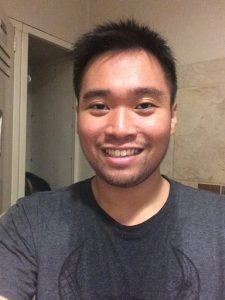 Selfie for the day taken at the gym
I'm back from the gym. I've spent a few minutes, maybe an hour actually, adding more entries to Tumblr. Right now I've only published the first post, but I have 4 drafts waiting to be published, these are from days 2-5. I think I'll wait until tomorrow to publish them.
—
Okay well I finished publishing one post to LiveJournal, although it was a lot quicker than Tumblr, I'm still very tired now. Time to move on to Medium.
Wow. Medium is awesome. I just published my first entry there and it was quick, painless, and easy. It was amazing. Medium is even easier to use than WordPress, easier to use than Tumblr. Tumblr was pretty simplified, but Medium takes the prize money for the easiest to use publishing website, in my opinion.
There is one last website I want to sign up for, Good Night Journal. And with that, I posted my first day entry into all the websites. I'm now extremely sleepy. I'll post some photos and stuff from today…
—
I am extremely sleepy. I cannot continue on. This is it, I can't even more my body anymore. I just want to rest forever.