Saturday, November 19th 2016
Today was the usual boring weekend, where I would do boring stuff. That's typically my weekends. Either the most boring, or most interesting.
I started the day by playing on the server and helping out with recruiting new players. Then I went shopping with my mom for some boots that I don't have to change out from when arriving to school, cause my locker is in the portable, but you can't wear wet boots in class, so I got the following, that way I don't have to take them off and walk in the snow back to my classes in the main building with my shoes, defeating the whole purpose of having my boots on… Trying to insert my photo, but the GJ app only won't let me. I'm gonna edit it in through Chrome, so for anyone reading this early for some odd reason, just refresh.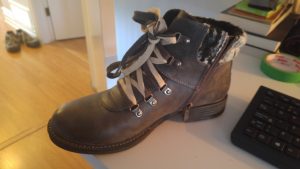 They are more grey. The lightning made them look brown.
When I got home I hanged out on the server some more before going to eat, talking to Megg Gawat a little, then watching 3 episodes of Supernatural.
That's all for today.