Oh my bed feels so good. It's good to be back.
As you probably know, I was gone for a week. I was at Cuba with no internet, so I missed quite a few days for entries. I did say I'd try writing them and post them later on or have one big entry for when I get back, but since I would be tired at the end of the day, I decided to make one big entry with each day inside.
Sorry if the pictures are bad quality. They're actually really good quality, it's just resizing them in entries so they aren't so small reduces that. Also, I don't have the best pictures, since my dad took most of them and I currently only have those on my phone.
So without further ado, here's what happened the past week +1 day :
Saturday, December 31st 2016
What a start.
Most of this day involved travelling. We woke up at 2 am, got to the airport, got on the plane… I realised that I now have a small fear of flying. I don't know if it's because I haven't flown in a while and watched plane crash videos maybe once or twice, or if it's because I got older and became more aware of the possibilities, even if they may be rare, but whatever the reason may be, I was really nervous while taking off. Luckily I slept all the way through the 3 hours, except for the remaining 20 minutes, when my mom woke me up since we were landing. I was nervous during that as well, especially because we were having a rough landing with the wind. Luckily, we landed safely and I could stop praying for protection, then passed by the security, got on the bus, looked outside for the 1.5 hour ride, then we finally got to our resort—Ocean Casa del Mar—which looked beautiful, with the modern look and white, blue and grey colours exactly like my bedroom at my home, and the beach was amazing, but, despite the pretty look and awesome things like the coffee shop in the lobby, it just, well… didn't function.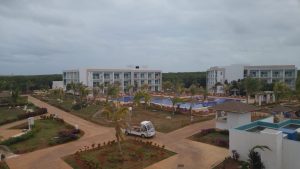 View from my hotel building.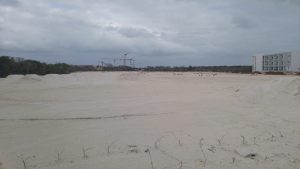 What I'd see from my room which is further at the right.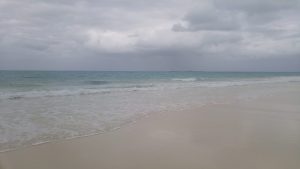 Ocean Casa del Mar beach.
It's still fairly new, only 2 years old, so understandable that some things wouldn't work, right? Not exactly. You see, the people in charge there didn't think a lot of people would show up to their resort (even it being New Years, come on), so they asked their staff to invite family members to the resort, ending up crowding the place and not having enough staff members, because it's the holidays. So when we got there—beautiful room, sight of a desert (which is understandable again, since they're still building it), with a little bit of the ocean, buffet was alright for lunch, the beach was good, although you had to climb rocks up and down to get to it, and there was some things like people roasting pigs over a fire and dancing (although the music was so loud, you could go to all the way to the other end of the huge lobby and it'd still be as if you were next to it, not kidding, we tried to get away from it), but whenever we'd ask staff members about the New Years supper, they'd have different answers. One says a restaurant will open at 6 pm, but it only did at 6:30 pm, so we were instead in a huge line for the buffet, which at a resort, is not supposed to happen normally. I went to resorts several times in the past and never once did we have to wait in line for the buffet. Restaurants, sure, but not the buffet. Though, that wasn't day ruining, since there was champagne for those who were of age, and the statue people you'd see walk around and stay still for a long time, as well as some dancers, but when we got into the buffet, that's when things go to chaos. Everyone jumping for everything. My brother got tongs to grab the food ripped out of his hand, trays were empty cause some people were piling up towers on their plates and putting the food in a plastic bag (it was mostly locals, so the Cubans there who would bring food home), there was huge lines for things like "pick what you want in your pasta" stations, so we were left with not a lot of food. We were angry, since my parents paid a lot for this place while the family members came in and just took more then they needed, but we've been complaining all day, so I said that we should stay positive and try to have fun. That didn't last long.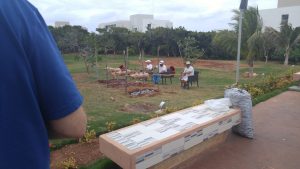 Roasting pigs with dad in the way.
Sunday, January 1st 2017
Happy new years!… But not so great happy start for us, nor for a lot of other people.
So my parents and grandmother woke up early to get to the buffet. They said there wasn't many people and that it was actually nice. I then woke up later to go and there was a lot of people, but that's mostly because I went around 9:00 am, when most people would, unlike 7 am when my parents and grandmother did. There was barely any food, so all I had was a toast, a boiled egg and cereal, without a bowl. If you can't get a freaking bowl, then there's a problem.
My mom went to find me watermelon and scrambled eggs. The watermelon was fine, but the scrambled eggs cold and gross, so I decided to leave those and the cereal (I'm not much of a cereal person anyway), and we left to get my brother so we could find the snack bar. A snack bar at a resort, for those who don't know, are open 24/7 and you can pick a few foods, typically hamburgers and hot dogs. We kept asking people who work there for it, and when we got there, it was closed. Apparently it only opened at 1 pm, when it's supposed to be 24/7. We then went all the way to the other side of the resort and found a new snack bar, that was 24/7. We got spaghetti, which was basically canned spaghetti, and only one waiter worked there, and she was doing everything, as well as what a busboy should do. That clearly showed they were understaffed. So it took us a while to get our food (though the fries were pretty good and even if it was basically canned spaghetti, it wasn't bad either), and we went to the coffee shop for desert. I got a chocolate iced capp, which tasted pretty good, but then as we were discussing everything, we decided that because we have been spending most of our day looking around for food, waiting around for food, that it wasted all of our morning and a bit of our afternoon, we would move resorts. We asked the representative to move us. Though, there was no way to figure out what the other resort would look like because you had to pay for the internet and we didn't want to pay for something we won't be using for long, so it was a total gamble. We decided on one spot since my mom says she saw the place online while looking for a resort, and we prayed that God would pick where it'd be best for us. We went to the beach, spent some time there before we had to pack and once we got back, the representative said there wasn't any space left at the resort we would be transferred to, but another place called Playa Cayo Santa Maria. We had no idea what this place looked like and we couldn't go to where a lot of other people transferring were planning on going, because it was an 18+ resort. We decided to gamble anyway and left. I was worried, and once we got there, it was small, and the lobby looked old, so then we were really worried. After getting our rooms and new bracelets (which I got an adult one for some reason, meaning I could have ordered alcoholic drinks without anyone questioning me, but I didn't of course, since that'd be illegal and I wouldn't want to get me and the person giving my the bracelet in trouble), we went over to unpack, and things opened up. There was a long fountain with palm trees around it, and pretty lights, as well as a pretty cool pool and awesome looking rooms. The buffet also tasted amazing. So things started to look up.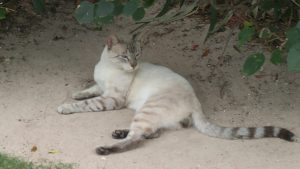 We found this cute kitty. There was a lot of 'em.
Monday, January 2nd 2017
We woke up, got to the buffet, got a pretty nice waiter and ate well. Then we went over to the meeting with the representative. It was just a presentation to know that activities and where things are. We decided at the last resort that we would visit Trinidad, an old town. 
Now I forgot a little about this day, surprisingly. I thought I'd remember a lot more. Though, I do remember this—when throughout the day, I don't know, but it is in order :
We went and found a taxi to go to the plaza. There was a guy with a really cool looking old car that kept motioning us to go in his taxi instead of the typical yellow taxi, but it looked like it could only fit a couple of people, so even if I kept looking at him, I just went along in the yellow taxi.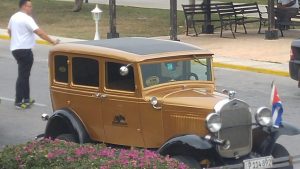 An example of the type of older cars used as taxis.
When we got there, there was a lot of things to buy. We looked around, found some jewelry, a funny toy camera made out of cans that if you pressed a button, a face of wood would pop our from the lens, and the typical wooden statues. We also went up a really tall tower and got a good view. I was now starting to feel really hot, because of the warm weather, and when that happens, I usually get in a little more grumpier mood, but not much, just the occasional "It's really hot", fanning myself with a hat and "Can we go in the shade now please?". It doesn't sound grumpy when I write it, but it's just the tone of my voice. We decided to get ice cream and I didn't get any since when I'm hot, I'm not hungry. Though my brother wasn't feeling well. I would say he wasn't feeling too hot, but it was pretty hot outside. BA DUM TSSSS… Sorry.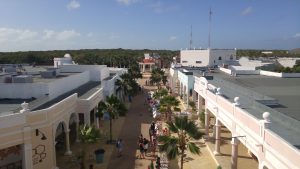 View from tower/part of the plaza.
I thought about getting a wooden cat for Kohai, but I was hesitant with the ones there, so we decided not to buy anything and go back.
We spent most of our time just exploring and we briefly went to the beach. I got to try a proper pina colada and it was amazing.
Though my time of the month started and I didn't bring tampons.
Forget swimming.
Tuesday, January 3rd 2017
We woke up early and got ready to go visit Trinidad! It was a long ride, but I did as I usually do on long rides, which is listening to music and looking out the window. We stopped at city called Spiritus, saw quite a few things, tried some wine (I didn't like it and this is the only time I accepted an alcoholic drink) and then got back on the bus. We finally arrived at Trinidad, looked around, then was given free roam. We didn't see that much. It was mostly just visit a couple of shops, try to find a restroom (I really needed to go, but I just couldn't because of the environment and little toilet paper they give us), saw the museum a bit (we paid, but not for my mom and I since we originally didn't plan to go, but we still got in anyway and I felt really bad, luckily we didn't stay for long), then found a small bar where I got my pina colada (which didn't taste great there, more like water cause of all the ice), and found our group. Apparently we were supposed to be back 15 mins ago, although they said to meet at 3:15. We looked around for our bus, finally found it and went back. I admired the architecture and different environment out the window before we were out of the town.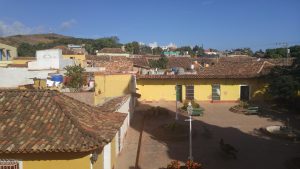 A small part of Trinidad from a roof.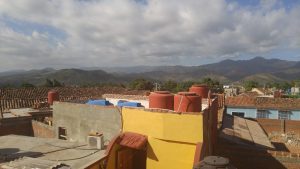 Trinidad roofs.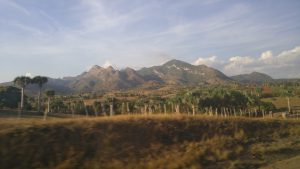 Mountains on our way back from Trinidad from bus.
Wednesday, January 4th 2017
I forgot about what happened here. I believe we spent most of our time relaxing at the beach. I couldn't really swim, so I read Cursed Child, or at least, I think that's when I read it. I zoomed through it pretty quickly. I loved the play, but (spoilers) I did not like Voldemort having a daughter. Like PrettyInBlack told me a while ago, it was very fanfiction-y. It's a common fanfiction story line for Voldemort to have a daughter and the way Albus and Harry got to understand each other better because of it was not a great way to go about it, in my opinion.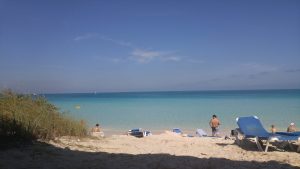 Best angle of beach from where I was sitting.
That evening, we decided to go to an Italian restaurant. I ordered a Cesar salad and salmon. The salad was overly fancy, being tiny and mostly for presentation, which I mean, not big deal, not a big fan of salad to begin with, I just ordered it cause there was nothing else I wanted, but when I got the salmon—wasn't even salmon. It was a random type of white fish. The waiter didn't tell us they ran out of salmon and apologized for it. I decided to eat it anyway, and it didn't taste great, nor did the mashed potatoes (although they got better the more you ate). I ate until I was full, we decided not to order desert, then we went to the buffet. We looked around for a grandmother a little bit, since she left when she also ordered the salmon and tasted the fish, but she was in a special night VIP thing (although we weren't VIPs) that we were invited to, but didn't go because of the Italian restaurant. We got desert and left back to our rooms. I watched the Disney channel (since that's what I would do at night before going to bed, cause there wasn't much to watch, so it was either that or if The Big Bang Theory was on), until she got back (I shared rooms with her).
Thursday, January 5th 2017
That day we again spent most of our time relaxing either at the pool or the beach. I spent some time inside with my brother playing Pokemon Sun on my 3DS. I ran out of battery and I couldn't plug it in, since I had 120V and the plug was 220V. Our adapters didn't work with our chargers also. Instead I read previous fanfictions I wrote (a lot were cringy, some were okay, but one I found was really good and I'm surprised I didn't continue it or edit it a little—it was about Moriarty having an older sister, being an enemy to Mycroft Holmes like Moriarty was against Sherlock, but with no romance, maybe the occasional "maybe they like each other", but in the end don't).
I believe this is the day we took a tour on a double decker bus. It was mostly just checking out the resorts while questioning if we'll ever get back since we ended up at the plaza 3 times. We noticed also the 18+ place most people went to doesn't look as great as we thought, so we were even happier we ended up at Playa.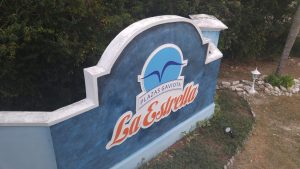 Plaza sign taken from bus.
We then went to the Japanese restaurant. Much better. I got sushi (or the best imitation they could make) and it tasted really good, and then I got chicken teriyaki. It was a bit salty, but much better than last night, nonetheless. For desert I ordered a flan, but I didn't really like it, but that's because I just don't like flan (ordered it since I haven't tried it in forever), since my dad and mom said it was good, so we all picked at it a little before going to the buffet for desert.
Friday, January 6th 2017
My time of the month stopped so I could swim!
At the buffet I finally figured out what is the best breakfast for me to eat there, but it was the last day : a boiled egg, a toast with butter and a chocolate croissant. 
My dad and I went to the plaza since I wanted to get something for myself and Kohai, and him for his brother. I ended up finding a pretty cool painting (which unfortunately wasn't signed, since we'd prefer signed paintings to know the name of who painted it, but we met the guy anyway and he was really nice and honest, because my dad accidentally gave him more money then he said and he didn't take it, but pointed it out) and for Kohai, a wooden notepad with a painting on the cover and "Cuba" written on it. I got that for her, since I found out they'd write whatever name you want on it, so of course I wrote her name and made 100% sure that it was correct, since she'd kill me if it wasn't. My dad also found a cool box where it's sanded perfectly that it's almost impossible to see how to open it. We all struggled with it.
We all went to the beach and I was a little paranoid going in, since the day before there were a lot of jellyfishes, but because there was a lot more waves, my parents were less afraid. My mom, brother, dad and I jumped it and just swam around a little, before my mom went back to my grandmother at the chairs and my brother, dad and I fed the fish with the bread we had. At some points several seagulls, maybe around seven, were flying right in front of us against the wind, for the bread. They'd catch the bread in the air and after a while they left. My brother then got slightly stung by a jellyfish, making me think I had enough of the beach for that day My grandmother and I then went over to check out the pool bar, but there was a lot of people, so instead we went to the other pool we already had chairs at and got a drink at the snack bar next to it. We all went in the pool for a bit and for those who still had drinks, sat at the shallow part, then we went to the snack bar. I decided to get a hot dog, since I already ate a lot of chicken fingers there before (they tasted great), but they ran out of bread. Our guess it was because of the guy near the pool who, no exaggeration, ordered five plates of food when there was already a lot of other people. So I ate the sausage and fries, then we went to the buffet. I only got desert and was happy to see the deserts changed a bit, after it was the same for the whole week.
We went back to the pool and after a few hours, most left to get ready for supper. I decided to stay with my dad a little since I haven't been swimming. We ended up talking about high school, bullies, and how he was bullied, or my brother was bullied, or a few people who were rude to me which one I almost kicked in between the legs and my dad answered with "good", which surprised me (but then again he in the past was beaten to the point of bleeding by some people in his high school days, so now it makes sense he'd be okay with me hitting back), how my elementary school went from the #1 school in my area to a bad one while I was there and how in the future I'll move on from the people I know in high school. Which, I am fine with for the most part, but not for Kohai. We are clinging on to each other for dear life, so hopefully we'll never move on.
On this day I started missing the staff on the Pixelmon server, Kohai, Megg, Poochi (my dog) and Ti-Gris (my cat).
Saturday, January 7th 2017
We woke up at 5 am to get our bus. I was exhausted and nauseous, as I usually am while travelling—though, I wasn't when we went there, surprisingly. Anyway, we finally got to the airport and decided to get the VIP lounge. I got to eat a grilled cheese sandwich and some chocolate there, as well as charge my 3DS for a bit, since the plug was 110V . I also had one hour internet, which I took that time to see what I missed on the server, which wasn't much. Our plane was a little late, but arrived earlier than expected. We got on and we took off, me being very nervous in the process. I decided to calm down and go on my 3DS, which only had around 40mins of battery. I was afraid while using it since they say to not use electronics cause it can interfere with something or another, although that's not exactly true, but when I use them anyway the plane seems to go through a lot of turbulence, but that's probably just me. So I turned it off and the plane stopped having turbulence (shrug). I then watched Storks, since that was the movie playing, then went on my phone to listen to music, which the plane started having turbulence and then I turned airplane mode on and it stopped (I must be crazy, cause this only happens to me; I see other people turning electronics on and nothing happens). Then I was bored for a while, so I just watched a fly clean itself and laughed at how it traveled from Cuba to Canada with me, and we finally got off. We got back to the hotel, waited for our dad to get the snow off the car, went to St. Hubert for food, then dropped my grandmother off and went home. It was about 8pm and I was exhausted. I just watched YouTube for a while, until midnight, since that's really all I wanted to do. I mostly watched Star Wars videos and took Star Wars quizzes, specifically "Which Jedi Knight are you?" because Obi-Wan Kenobi is my favourite Jedi Knight and in the past when Qui-Gon/Anakin were my favourites, I'd get him as a result at those quizzes. On different quizzes, I ended up with Obi-Wan (31% him, 23% Qui-Gon Jin, 23% Yoda, 15% Anakin Skywalker and 8% Mace Windu, which made me "aw", since Form VII (A.K.A Vaapad) is my favourite form and he teaches it), then Qui-Gon, then Obi-Wan (him, after Luke, Qui-Gon, Anakin, Mace, a Sith and Yoda), Mace Windu (yay, I can get Form VII after all) and Luke. So the majority was Obi-Wan and Qui-Gon. Speaking about Obi-Wan (which I nicknamed "Obs", but then also reminds me of what Megg calls me, but I always wanted to add an s or z to a name that works to make a nickname, so… but to avoid confusion, I'll just use "Obi"), I had a dream about him on the first day of vacation, which was pretty cool. Apparently what was gonna happen is in ep. III, instead of Anakin losing, Obi was going to and he'd also die, so I knew I had to save him. I carried him around on my shoulders and fought Anakin in a lightsaber battle (the lightsabers were really skinny, so like the ones in Rebels), but I lost. Then I realised that the Obi I thought was now dead, was actually alive, whispered me something that only my dream self will ever know what it is, cause I had no idea what he said, then I was going to get up and save him, but I woke up.
Sunday, January 8th 2017
So today is my last day before going back to school. I am supposed to have a math test tomorrow, although I will ask my teacher to move it, cause there's no way I am gonna be capable of getting ready for it after not doing any work for 2.5 weeks and only studying today.
I woke up to see my cat was back and really happy, then watched YouTube for quite a while before getting ready for the day and writing what happened this week for about 2.5 hours. I decided to take a break by watching YouTube before doing some math work. I was really nervous, but then I realised it's cause I was doing a lot at once. I had in plan to back up my phone, in the process having pictures for this entry on my computer, so instead I started doing that and while it was transferring, I'd work on my math. I made a review of what we learned, and now I just have to practice it.
Although it's only 4:30ish pm right now, I'm not gonna leave this entry for later, that way I have things out of the way. My plan will be to finish the backup, do math in the process, once the backup is done just put the pictures into my entry/edit it, that way those two things are out of the way, eat supper before or after the backup is done, continue math and/or see what else I have to catch up on. I wanted to finish my technology class work, but that's cause I thought I'd still have a few days when I get back from vacation. I just want the tasks out of the way today and only have to study math for the next couple of days and help out on the server since the deadline to build something (and that something is giant), is in February, so I have to start on that.
Also I have a slight tan. This is surprising, since I only burn and don't tan, but I didn't burn and I'm slightly tanned. Huh.
That's all for today.