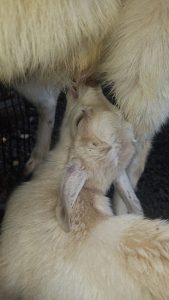 Goats are funny. They wait till the weather sucks to kid. Last night we had freezing rain warnings and Dog (the goats name), figured it was an excellent time to kid. 
If any if you have read my journal entries, it may look like my life sucks. 
King Doody.. my paramore. Husband with out papers. Pain in the ass. Baby daddy. Person I visualze killing on occasion. He does a lot to make me happy too. I just wished he understood it doesn't require buying me stuff.  Either way…goats are the gifts that keep on giving.