I made my second Dream Catcher.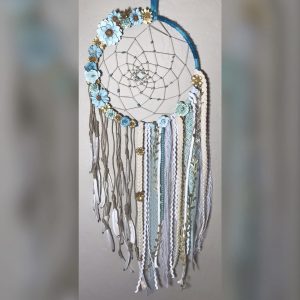 I love how they are turning out. This time I just went for it. I didn't waste as much time second guessing. Luckily I was able to spend more time at the store and get the supplies I needed. I probably walked around the store 10 times, lol. If they store wasn't closing I would have been there for another 2 hours.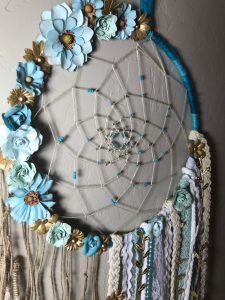 I love the detail this one has with the flowers. Teal is turning into one of my favorite colors! 
Both nights I made these, I was up till 6am. It's crazy. I was not tired at all and time flew by. I found something I really enjoy doing!
I ended up posting these on my Instagram. I had a few friends mention they wanted one and asking if I was selling these. I would LOVE to sell th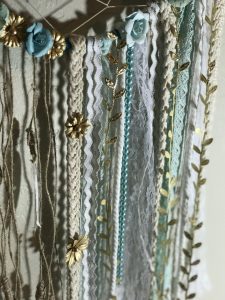 ese. I've always loved the idea of owning my own little boutique. How fun would that be? 
Etsy seems like the place to sell these type of things on. It just seems like such an oversaturated market though, how could I brand myself so I would stand out? Or compete with people who already have it down. Somethings I would have to think about. I would definitely add The Tina Touch, but what could it be . . .  
A similar looking style to the one I made is going for around $50-$120.00 per one. I saw a cool Sea one, which had shells and such. Maybe doing one with more crystals could be a thing. Also lettering and 3D pop out. 
I can't wait to create more. I just need to find a place where I can stock up on lace, ribbon, rope, etc on the low low. I've already spent.. $165.00 on 2 shopping trips and 2 Dream Catchers.  That seems like a lot of money.. But I do have a ton of left over supplies – but not enough to make a new one or an original one. I need more colors and styles – I don't want them looking the same.
I would like to create an orange/yellow sunflower one, a sleep crystal one, and charka one as well! 
 I plan on updating with my progress. 
NEW GOAL:
– Sell 1 Dream Catcher
– Create Sunflower Dream Catcher
– Create a Sleeping Dream Catcher
Xo.