Made my love some delicious steak tonight!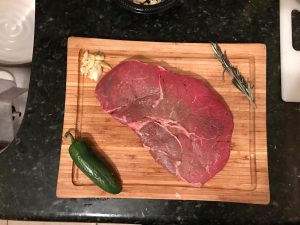 I saw a video on Facebook and decided to give it a go. For the life of me, I always seem to make some type of error while cooking.. Maybe one day I'll be the chef I dream of being. 🙃
My SO is the sweetest though. Even when I know my food does not taste good, he makes sure it's all eaten and I know how much he enjoys me cooking for him. I'll never really know if he likes my green bean casserole or if he'll fake it for years to come.
For tonights menu we had pan seared steak, creamy gar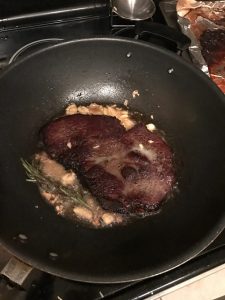 lic scalloped potatoes with roasted vegetables.
It took me a little to realize how I would cook everything.
I can't wait to design my dream kitchen and have more than 1 oven, lol. How am I suppose to cook something at 200° for 1 hour and 350° for 45 minutes?! I made it work though, don't worry!
I want to step outside of my comfort zone when it comes to cooking and eating, this year. I think it would be fun to change up my taste buds, try new foods. And what better what to try something than to cook it? I see a lot of yummy looking receipts on Facebook and so far each one I've attempted to make have been pretty good. 
Tonights Meal: Steak Dinner for 2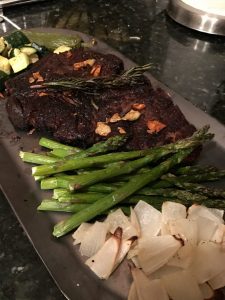 Rating: 7 out of 10
Make Again: Yes but change it up
Time to Prep/Cook: 2 hours
Pro – 
1. I liked the presentation
2. Vegetables were good
3. Potatoes were cooked just right
4. Steak had good flavor
Con – 
1. I did not have flour, the taste of the potatoes was off to me. Too sweet? Also.. almond milk.
2. I think the steak was too well done
3. Should have had a salad! lol 
4. My steak had fat in it, grossed me out
I think I want to try to cook a new meal, once a week. We cook daily (when we have food lol – lately we've been too lazy to go grocery shopping. But trying to save money so we haven't been ordering Postmates. At one point we were ordering it every other day, ahhh! $$$$)

I can't wait to start learning new things to cook. 
Do you have a favorite meal to cook? Let me know, I'd love to try it!