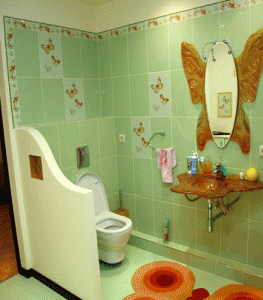 It is nice to have a separate space for your child to sleep and use the bathroom. It keeps your area clutter-free and gives them some independence. But what do kids want for bathroom decor? Here are some ideas for designing your child's bathroom remodel.
Double sink
If you have multiple children using the same bathroom, and you have the space for it, you should try and put a double sink in the room. It will make it easier for your children to use the room at the same time and gives them more room for putting out their various bathroom products that they need.
Separated vanity area
A popular thing to do when designing a bathroom for children is to have a door separating the vanity area from the toilet and shower. This allows multiple uses of the room at the same time. Plus, as your children grow to be teenagers, they won't fight all the time about how long one person is using the bathroom because the other one will be able to use the mirror and sink at the same time.
Laundry basket
You might want to put a laundry basket in the bathroom if you have younger children. This will help them have a place they know to put their laundry. It's nice to have a centralized place to put laundry, so when you go to wash it, it is all in the same place.
Specified towel racks
Another idea of something you may want to do if you have multiple children sharing the same bathroom is to give them specific towel racks. You can put their name on it or just make it clear which one belongs to who. This will help with the potential fighting between children when they both want to use the same spot for their towel.
Step stool
Much like baseboard heater covers, step stools can be functional and beautiful for the space. One popular thing people are doing is installing step stools underneath their cabinets, so they are hidden away but can easily be pulled out for kids to get up to the sink. You can also get a more stylish step stool that will look cute in the room and add to the decor.
Light up the space
It is better to have a lot of natural light in your bathroom if possible, but most people have bathrooms without windows. Because of this, you need to add as much light to the space as you can. Get light fixtures that are beautiful and work for the space, but make sure they are bright and give a lot of light to the room.
Wall art
Adding some art to the wall will make it feel like home. Many people put bath time pictures of their children on the walls. You can also do pictures of different animals or fish. Pick a theme, and stick with it in the space.
Interior decorating and remodeling news brought to you by ezsnapbaseboardheatercovers.com
Source: http://www.houzz.com/photos/bathroom/type–kids