Friday, January 27th 2017
Today was fun.
I was woken up by my mom around 8:30ish am. Apparently Kohai was up since around 6 am, so we decided to all get up and eat breakfast. My parents made us toast, bacon and eggs. Kohai got a little nauseous since she woke up early, only getting four or so hours of sleep and waiting too long to eat.
We went back downstairs after cleaning the table and played some Mario Kart for around an hour or two and raging against the CPUs cause of being on the hardest difficulty. We also played the Evil Apples app (basically Cards Against Humanity). My dad then drove us to the cinema so we could see Fantastic Beasts. My friends have already seen it, but they didn't mind seeing it again.
At the counter my friend insisted that I go first even though I'm the shy person who rather go second to do something I haven't done before so I can copy the person in front of me that way I don't say anything stupid, but to not make things awkward and refusing even more, I went ahead, asked for my ticket and popcorn and I was relieved, since everything went smoothly and the guy at the counter was really nice. We watched the movie and (SPOILERS) it was really good, but the only character that I really liked was Newt, and maybe Credence. I think I liked the beasts mostly, haha. Jacob (although sad at the end in the rain) and the girls didn't really interest me, except the fact one of them can use legilimency. Though I cringed when Newt said "mind reading", since that isn't really what it is. The wiki even states "Muggles might call this "mind-reading," but practitioners disdain the term as naive". Also, the fact that they casted Johnny Depp as Grindelwald at the end was a little weird to me, maybe cause I didn't think of him as an HP type. I'd have to take another look at that 30 seconds.
Overall it was a good movie. It was interesting to see the different types of beasts and how things run differently in the U.S. for witches and wizards compared to Britain. I also really liked the bowtruckle. It was adorable. The snake/bird beast, the sort of hypogriff(?) that can cause storms and sloth that can turn invisible and see the immediate future were cool as well.
After that my friends grabbed their things and we drove them home. I then ate Chinese food and watched YouTube for a while since I was exhausted.
One of the owners gave me a to do list for an event she pushed for tomorrow before she remembered that I'm the one taking care of the server for that day. I assured her that I could handle it anyway.
I then did some drawing of my cat with a style of mostly straight lines. They look nice so far, though the first is too skinny for him :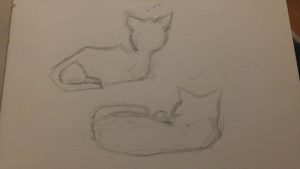 If I get the opportunity to draw him again as he sits still (which will be often), then I'll practice some more. It'll also help me understand the shape of cats and how to draw them.
That's all for today.