Saturday, February 4th 2017
Today was alright.
Most of what I did today was homework, YouTube and moderating the server, then going to the restaurant for my grandmother's birthday. Since it was an Asian restaurant, I got myself a bento box with Thai coconut curry chicken and prawn tempura maki, and a cheesecake for dessert. It was good. I also discussed with my cousin how he got his second audition some time next week for a Canadian show. My gosh, freaking prodigy with his cadets and being at an academy and now this—so proud of him *hug* 😀
Anyway, I also talked with my brother and dad a lot, since they were the ones seated next to me. My dad and I talked about art, for my brother, anime, and other various small topics.
When I got home, since I was discussing with my dad about art and struggling to find my style, I had a sudden urge to draw a bit of a cat. Perfect timing, since one of the owners was streaming herself drawing. I joined in, answered the question for a chance to win a prize on the server, which was "what version did you first play Minecraft?". I didn't remember the exact version, but my guess is 1.0.7 Alpha, since I first played near my brother's birthday in 2010.
I sketched the shape of the head based off another artist, but I accidentally made it sideways and I just ended up going with it, and after just doing what I felt was right, I made something that could work in terms of style. It's the cute I always wished to be capable of drawing, but can have a dark tone and that seems to fit me best.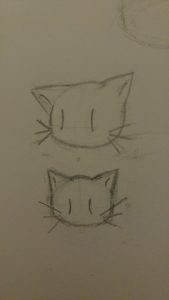 The second facing forward one was a a quick one, so doesn't look as good. Let's see what I think about both of em tomorrow morning.
That's all for today.