Thursday, February 9th 2017
Hey, I exited the tab accidentally and what I wrote stayed when I went back. Awesome!
First class—psychology! Half of the class was gone cause of winter festival trips such as tubing, skating or skiing, but we worked anyway. We talked more about Franco-Ontariens.
I then had French and we had a substitute teacher that used to teach at my elementary school (why are all the subs in my French class from my elementary school?), but she also had the last name that my 3rd and 6th grade teacher had, which was a favourite of mine, so I regret not asking her if she knows him in any way. She was probably his wife, I dunno. I should have asked. If she comes back again I will.
Anyway, I worked mostly on the book and editorial sheet she gave us.
At lunch I sat with only one close friend, since the rest were out on the trip, and we talked about dreams and other various topics. Speaking of dreams, the trick didn't seem to work? I'm not sure. I don't remember what my dream was about, except I know my dad was in there, and I did kind of stray away from thinking about the Harry Potter universe while falling asleep, since I ran out of story ideas. I'll try again tonight, probably not HP related.
I then had art and I continued painting. I accidentally made purple instead of brown for the trunk of the tree and kept screwing up cause of too much water. I let it dry and made a much nicer brown, and abandonned the idea of water. Instead of going with the blue for leaves, I decided to just go with green. I made it too much of a light green, but I'll go back with a darker after. It'll be decent for a first try.
I finished the day with English and we discussed Nosedive and the links there is to our society, as well as Part I of 1984.
At home I spent a lot of time trying to draw. I just could not make it work. At some point I turned off my computer and decided to go back to it, then did different emotions for ghost kitty.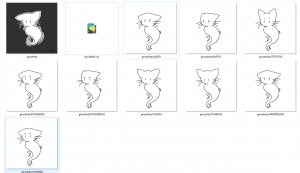 That's all for today.