Friday, February 10th 2017
I liked today.
I started off with French. We had our quiz and it went well. A couple of questions I didn't know the answer to, but the rest I had no problem with.
I then had psychology and we continued discussing Franco-Ontariens, as well as different cultures in different countries. I've always found things like this incredibly interesting, so that was fun.
At lunch I went to my technology class, because I wanted the podcast episodes Kohai and I recorded. It took a while to transfer, but I finally got back to sit with my close friends and Kohai. I asked them about dying my hair, but even if they said yes, I'd look good on me, I thought against it, because of having red shirts that wouldn't match blue hair. If I planned on dying my hair, I'd probably have to wait until I gradually get the clothing that will match the colour. I do still see people mix their hair with other coloured shirts, but I like matching colours and most of my clothing is black, white and blue anyway. I'd just be dropping a few red shirts.
I had English next and we discussed about privacy issues (Little Brother), and continued reading 1984.
I finished with art and I completed my tree. Doesn't look great, but I'm not really a painter. It was good practice though and I know if I ever tried a little harder, I could achieve more. Plus it gave me an idea for when I get to painting the mural, cause I'll be painting some bushes and grass.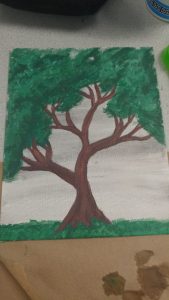 At home I drew my friend's birthday card for tomorrow and played some Brawlhalla before suddenly feeling extremely exhausted. I might of just been really concentrated. 
I spent the rest of the day watching YouTube and writing fanfiction. I've done some research, and apparently Grindelwald was only sixteen when Ariana died… I expected somewhere around twenty. She died in 1899, and Grindelwald is born in 1883. But Dumbledore said he was expelled from Durmstrang around 17 years old and has their adventures then—which I suppose makes sense, since it's around seventeen, but that means all of their adventures together for the Deathly Hallows, then the fight, lasted in the span of a few months. I'd expect maybe a couple of years.
That's all for today.