Monday, February 13th 2017
So. Much. Drawing.
Because I was sick today, and I think it was a snow day—I did a ton of drawing. From 11am to 7:40pm. Didn't really do anything in between other than maybe texting Megg back as he wished me to get better soon and watch some YouTube videos. And eat, that too.
I was trying to develop my style. I've tried a ton of different kinds and I settled with something like this :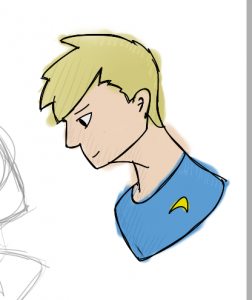 I like it, I just have to improve it now.
I did a tiny bit of homework as well, cause I'm supposed to have a quiz tomorrow, but I don't think I'll be well enough to go. I only have a small head cold, but still, I don't want to sneeze over everyone and have snot all over my papers. Not pleasant.
If by some miracle I am better tomorrow, then I'll study during lunch, since French is in the afternoon, and I didn't make my lunch for tomorrow, so either I'll do it tomorrow morning or just buy one.
Megg texted me that he is giving me something for Valentine's day tomorrow, even though he didn't need to… Come on, now I feel obligated to give something back and I'm too busy with drawing and being sick to think of anything >-<
Speaking of that, my parents got me and my brother some chocolates, as they usually do, but we both fell sick, so we couldn't get them anything in return.
And help me. My obsession shifted from Grindelwald to Percival Graves—His name is just so cool and I'm angry cause we know so little about him.
That's all for today.