Saturday, March 4th 2017
Today was fun. 
I spent most of my day working, drawing, or watching YouTube videos. I finally completed my editorial—the brainstorm, plan, draft, correction and final. Now I just have to work on my English project as well as my debate. Debate first, I'd say, since that's due first, although it won't take me long to complete it.
This is the picture I am using instead of my face for my editorial, since my teacher wanted a picture of ourselves and our name, but she allowed us to "use emojis—whatever you want as long as you understand the concept", so because today I was sketching a dragon, I'm using this lovely baby drago :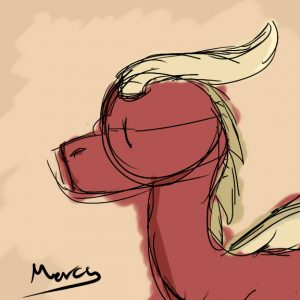 It's not completed cause my lines wouldn't work, so I'm keeping it in sketch form for the editorial.
I also tried a game called Horizon Zero Dawn. I only went through the tutorial so far, but it looks great. The only thing I don't like is how if you fall from a high place, it's as if gravity was ten times stronger and like my brother said, "explode everything around you", because of the sound you make upon landing and how rocks go flying.
Last night I had fun talking to Megg. We talked about typing tests, passions, games, hair… and we were really sarcastic this time. I'm glad, since online people take me seriously, cause I have only gotten more sarcastic recently, but Megg was able to catch up on my sarcasm very quickly. I even called him an old man as a joke and he didn't take that offensively. Shows that we're comfortable haha.
That's all for today.