Friday, March 10th 2017
Wheather, choose already! Is it spring, 10°C, like a couple days ago, or winter, -10°C, like today?
Today was slow, since it was the last day before March break.
I started with psychology. We took notes about resilience towards trauma then discussed it.
I had French and we listened to the final debate, then continued the movie.
At lunch I said with Kohai and her friends. They talked about dancing and other various things. Kohai lied to her friend so that she could eat sushi with me and a couple other people, by rescheduling their hanging out time. Kinda scared for her now, since I feel like it might bite her in the butt, but she feels bad about lying, so. Still, wish she came clean.
I had art, and I finished painting my moon. Definitely need practice in the space background part, and I would have used white acrylic instead of watercolour for the stars if it was at my disposal. Well it was, but I didn't wanna go looking for it.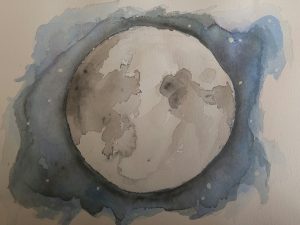 I finished with English and we listened to some presentations, then I played someone's version of Life. It was fun. Played it with the cute guy, but he has a girlfriend I think, so rip me.
I got my grade back for my board game pretty quickly, and my teacher was impressed! I got an A+, so really happy with that 😀
At home I went on the server, ate, played KOTOR (that's a pretty cool acronym for Knight's of the Old Republic), but stopped since I got to a puzzle that I didn't want to solve, then watched cat videos (cat noises are just so satisfying I dunno why), my friend texted me about babysitting her cats, and now I'm talking to Megg as I'm writing and ignoring him (just kidding, not ignoring him).
Finished talking to him now. We talked about sports, wittiness (and proceeded to roast each other now and then; at some point where I called him Megg the Egg and me Llama, cause my name ends with "a"), and being my age. I had fun.
Gonna go to bed now.
That's all for today.