Tuesday, March 14th 2017
Today was good.
I woke up a tad earlier to go feed my friend's cat, but my mom decided to go instead of going back and forth with the car.
I watched YouTube videos, moderated the server and drew my daily Pokemon for the day, since Megg and I decided to draw Pokemon starting from the first Pokedex entry to the last once a day, or at least most days. Since #001 is Bulbasaur, I did,well, Bulbasaur. I don't like what I did for it and next time I know to stick with what I normally do and improve that with time, but it was good to see what I can do with a different style. I don't really like it, but the more I look at it, the more I see that it wasn't that bad as I originally thought. I decided to keep it even though I'm not satisfied, cause I want to see the changes from Pokemon to Pokemon.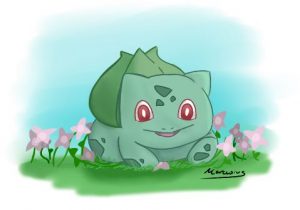 (The signature is my Twitter and YouTube user—shhh)
Other than that, spent quite a lot of the day bored, finally cooked for my family with the help of my dad, cause there was a lot of preparation to be done (shepherd's pie), went to feed my friend's cat and played with him quite a bit, before going home to moderate the server and taking another look at the questions I answered for the book. I made a few changes to some of my answers, but left some starred there for later.
Oh, and of the owners got me Half Dead, which is a small game based of the movie The Cube. You go into rooms that are either dangerous, lethal or safe, and try to find the end. Just a fun group game.
That's all for today.