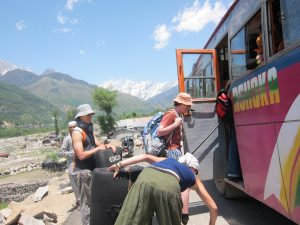 The major regions of India are not only well connected by busways, but also are the routes diverse and allow its travellers to discover the various cultures. While the wanderlust itself is wonderful, there is much to do in the destinations that holds a lot for you. Here is a mention of some of the top bus journeys spread across India that can be taken up without hassle.
Useful Travel Tip: Always book bus tickets online from redbus.in, this will r
educe your time and money. Moreover, you may select your preferred seat and bus type from the long list. This online portal also has zero booking fees upon bus ticket booking. It also ensures secure booking procedure and safe travel.
Read on to find out more about the bus travel journeys throughout India:
Delhi to Manali: with the reminiscence of a good city life you leave Delhi, your idea changes once you reach Manali, you will be welcomed by the lively Himalayan town. One can discover one of the most beautiful holiday destinations in India or delving into the mountain bohemian beat—all is feasible in Manali. A place like no other, there is something worth everyone's time.
Chennai to Pondicherry: Well connected by the silent East Coast Road, travellers take this journey only for to view the sights of this wonderful flat land. There are areas along the highway when you can see the Bay of Bengal on one side and on the other, acres of vegetation. If you wish, you can go up to Cuddlelore and explore the unexplored beaches of Pondicherry.
Bangalore to Panaji: Can't decide where to travel! Just take the bus to Goa! The amazing highways across the two states of Karnataka and Goa are a constant source of happiness for the travellers.