I wrote this big, long entry on yesterday. I went to add media, hit the back button for a second, and like a fool, I lost the entry. 
So instead of my well thought out, carefully worded entry I give you this:
Snooch will receive in-patient services for atleast the next 3 days. Most likely she will be there for 5 days. Seems silly to me since she will now be spending spring break rotting away in the mental health facility. Last time she was there she got lice. She can't possibly enjoy this shit.  Physically,  she's fine. She does have a horizontal gash on her wrist, which to me says this wasn't something she was planning on following through with. This was yet another loud cry for attention.
*Sigh* I get it. I do. She likes, needs, and thrives off attention. Some might even call her an attention whore & I wouldn't say that's wrong. The thing is though, she's practically like a psychic vampire. The attention is on her 24 / 7. Her escapades are going to eventually cause me to lose my job which is ironic because she is ALWAYS asking me for something.
She begged up and down for the dog. Got the dog. Barely spends anytime with him and it falls on me to care for him. I expected that. I did and so I don't mind caring for the puppy. Constantly wants new clothes or for me to run around driving her and her friends every where. I give in for the sake of happy memories and what not.
She's not going to like what is going to happen when she gets home. I will give her endless amounts of love and attention, but damnit! I am calling shenanigans and putting my foot down to her never ending lists of demands. 
Ennnnnnough of Snooch!
Work tonight took forever. I did manage to go out with The Man for an early dinner. Our favorite mexican restaurant is going down hill and frankly, the quality of the food is beginning to lack.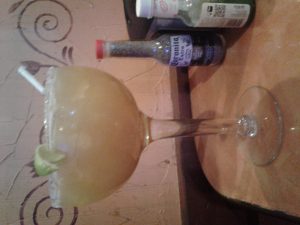 My drink however, awesome as always. Apologies for the whole side ways thing. This picture is properly rotated in my gallery. No clue why it uploaded sideways.
I've been following through with my diet … except for my awesome margarita and a few double stuffed oreos The Man left on the bed when he fell asleep.
I've got 3 – 5 days to clear my head. Next time the psychiatrist suggests cutting down a med for Snooch, I don't think I'm going to be fully on board.
I'm all revved up and my thoughts are spinning. I know we've got this and can handle this, but all the hiccups suck.
Later: Still up & still thinking about things. My biggest issue right now is that I am over extending myself. The biggest thing is that Snooch needs structure, stability, security, and attention. I'm not doing myself or her any favors if I give into her wants than I feel overwhelmed. She may not like it, but by putting my foot down I will be eliminating a lot of stress for both her and me. If she puts herself in a position where I say "no" and a tantrum ensues, I'm going to need to be hyper vigilant. If she asks why she has to use a butter knife at dinner… I'm just gonna tell her I threw out the good knives…