Tuesday, April 11th 2017
Today was fun.
I started with French. Just correcting; not the fun part.
In psychology we continued our notes and had our usual group discussion.
At lunch I sat with a couple close friends and Kohai. We talked about various topics.
In English we did our reading group discussions and I remembered I didn't read all the chapters or did the work. Regardless, nothing was spoiled to me, since I already knew which character was gonna die in the chapter I didn't read. We did our papers and then talked about the scenarios of our class being on an island. We also talked about if girls were on the island instead, and I recommended the documentary I saw of a bunch of kids being alone in a house for a week. 
In art class we continued pinch potting, but I was still planning my ideas. I finally figured out what to do. It's gonna be a gift for one of the owner's birthday, so I'm making a small pot with a cream coloured base, with aqua flowers and then painted aqua dots, since her favourite colour is aqua.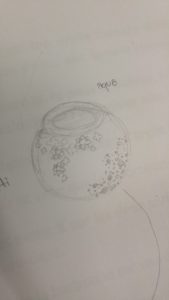 While walking to the bus, I saw my technology teacher, and I was about to ask him about my website I've asked to reactivate for a project, but before I could, he said "Didn't you ask me to do something for you?" I thanked him after answering and left for my bus.
At home I watched YouTube until I returned for a theatre play. I ate supper with Kohai and her family. While getting the rice, salad, chicken and chocolate desert, a girl working/volunteering there said to the guy next to her "That's the girl in my English class!" and the guy did a peace sign. I smiled (at least I think I did? I often forget my reactions) and turned to get my water bottle. She is one of the girls I usually do group discussions with in English class.
The play was good! It was about a murder in a theatre group, which turned out to actually be an accident, and the person wasn't dead, just unconscious. Sounds like a lame ending, but it did the usual funny "Guys? Hello? I'm stuck!" at the end. I congratulated the friends I knew that were in the play.
I went home, watched Doctor Who and Supernatural. I mentioned to Megg I'd read what he did for the book, but forgot about the play.
That's all for today.