I used to study Greek. There's no trace of show-off in there, 'cause I barely remember its alphabet. But I do remember one thing from that course: the look on my teacher's face at the beginning and end of each session (the ones I didn't miss).
What a torment! The poor man loved what he was doing, the material was standard, the teaching method was good, the class was OK, the weather was fine… Man! It wasn't even a mandatory course; I volunteered!
Each session, he would come to the class with a generously big smile on his face, and after some time (between 3 to 4 days on my time sensor), he would leave us with his head down and his smile downward so miserably that I just wanted to grab him hard, look him in the eyes and say: "God damned! It's not your fault! I'm a duck. I'm a very tired distracted duck."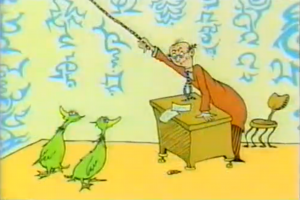 Well, I would love to do the same with Romm but he seems a stubborn, 'a pattern of all patience'. Maybe that's why his story is a national literature, not an international one. Unfortunately (as a duck, I'm so suspicious of using this proverb, but anyway), it's 'their' cultural heritage. Bright days of education will come somewhere else. They will manage to turn their ducks into great learners. My destiny, however, is being cooked and served on an oily table in an endlessly dark night. My people have a cold heart for warm things.