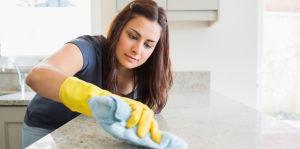 No one knows how spring became the universally decided upon time to freshen up the home, but it is and now that Spring is here, you really should spend a little time giving your home a refresh. So carve out a couple of weekends and try the following spring cleaning ideas.
Declutter
When you've got a major job in front of you, it's easy to be overwhelmed and not know where to start. But when it comes to spring cleaning, always start by decluttering. Simply getting rid of all the junk you no longer need or want is a great first step because it frees up space and helps reduce anxiety about the whole process. There's something therapeutic about getting rid of junk so get out the garbage bags and donation boxes and go through your home one room at a time.
Deep clean
This is a type to do all the chores that don't really need to be done weekly, but should be done annually at the very least. Pull out all the furniture and vacuum/sweep behind them. Dust the out-of-sight places that get ignored the rest of the year. Empty out cupboards and drawers and give them a wipe down, etc…
Open the windows and swap out the curtains
When the weather is just right, leave the windows open. Not only does it reduce energy bills but it lets in fresh air and natural light. To take even more advantage of this, replace thicker curtains with light, airy ones.
Repaint the trim
Inside your home you can repaint your crown molding, baseboards, wainscoting, and window sills. Outside, you can repaint your home's trim and perhaps even your front door. If you're ready for a change, go with a new color. When painting indoors, do it on a day where you can have all the windows open so there's plenty of ventilation.
Swap out accessories
You don't have to spend a lot of money replacing furniture and major appliances if they're still functional. You can swap out throws pillows, artwork, photographs, and other home décor items. Another way to change things up is to rearrange your furniture. Move things around until you find an arrangement you like.
Ditch the plastic plants
Permanent botanicals is just a fancy name for fake plants and no matter how realistic they look, they're still plastic dust collectors. Toss them out and get some real plant life. If tending to plant life isn't a passion of yours, select varieties that are resilient so you can enjoy the benefits of real plants without creating too much extra work for yourself. Daily watering is much better than dusting off the "permanent botanicals" one leaf at a time every month or so.
Baseboard radiator covers
Install snap-on baseboard radiator covers to give your home a fresh new look with minimal work and minimal cost.
Interior Decorating and Remodeling News Brought to You by ezsnapbaseboardheatercovers.com
Source: news-press.com/story/life/home-garden/2017/03/31/spring-refresh-your-home-and-spirit/99878336/