My skin feels sticky and gritty. Without moving a muscle, a deep pulse runs along the bottoms of my feet. My legs ache and burn, but it feels so good. 
Today we went to Triple Falls and Hooker Falls in North Carolina. It was a lengthy drive, but it was so worth it. Transylvania County calls itself  "The Land of Waterfalls" and the motto does not disappoint. 
I picked out Triple & Hooker Falls for today's jaunt because the walk to either waterfall (same access point, but different trails)  wasn't depicted to be overly strenuous. There has been a few walks that I've taken where Rascal over exerted himself, plopped down on the ground, and refused to move another inch. Today was not going to be that day where not only did I have to carry a hiking bag, but a winded 25 pound puppy too.
Sure enough when we arrived the parking lot for the reserve was filled with families, young kids, dogs of all varieties, and a few elderly couples. That was a promising sign. Not be rude and discriminate, but you don't usually see little kids on hardcore hikes. You can sort of tell the difficulty of the trails just by looking at every one's gear in the parking areas.
Hooker Falls was beautiful. No one was allowed near the top, but there was a refreshing swim hole at the bottom. I immediately regretted not packing swim gear for the kids. It was a quick, easy trail to get there. We looked around for a little while, but with our normadic nature we got antsy fairly quick. It was most young families taking a dip or sunbathers. We were more in the mindset to keep moving along the trails.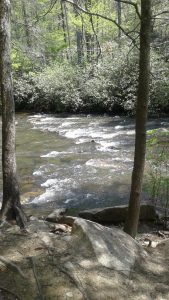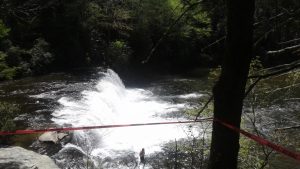 Hooker Falls was nice, but I really liked the hike to Triple Falls. It provided me with a nice steady work out. I won't lie though. At the top of the trail there were stairs and platforms leading down to The bottom of trails. It gave me a shiver down my spine and I was instantly worried that it was going to be Tallulah Gorge and the staircase down to hell all over again.  I realized people making their way up hardly looked winded so my concerns were unfonded.
The trip gave us a lot of great opportunities for Rascal. He socialized with so many different dogs today. He accepted pets from so many people that saw him and well… they just had to pet the puppy.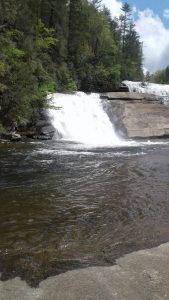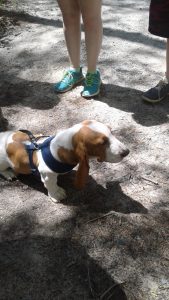 The best part about today was that we spent it together and it was drama free. We spent time together as a family, saw some beautiful things, got some exercise, and trained our new puppy.
So that was my day! Really helps to break up the week and gives me something more significant than work to reflect on. 
On that note, it is shower time.