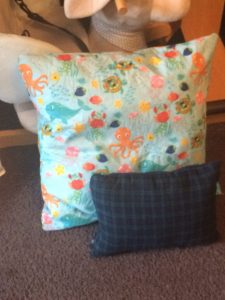 Feeling so happy today and content. Today was a bank holiday and so myself and my husband were both off work! Wee mya was at nursery as she goes every Monday and (despite that fact I pay whether she goes or not) I like to keep her in that routine, and it was so lovely to have a few hours to ourselves. I had said to my uncle ages ago I would make him a tartan man pouch thing for his belt, so today I finally dusted off the sewing machine and made it! Then I decided to sew myself up a quick tote bag with the leftover fabric, and then I made 2 pillows as well. I'm really pleased with how they turned out and I felt very productive! I also did some exercise and watched a couple episodes of '13 reasons why' which we are both addicted to. I'm starting to dislike Hannah baker though….
  other news… my Nannie is so much better! She has done really well, I went to see her yesterday and going again tomorrow. She is up on her feet again and not muddled, and in a nice quiet ward with only ladies in too. I'm so pleased for her! 
   On that note, I've just downloaded a new book called 'Britains most notorious prisoners' so am away to read that with a cup of tea ☕️ before bed. Happy bank holiday everyone!