So today ended up being mine and Nathan's  date night which turned to date day since we spent the whole day together and right now instead of watching movies we rented, he's  having a huge fight with his dad over bullshit reasons. No point getting ijnto it because  it doesn't  always make sense and Nate's dad doesn't  always have.good reasons for being an asshole and Nate has a lot of stress going on with taking care of things with his dying mom. So it's  just a lot of drama as of late.
But we went to the city and spent.the day there shopping and went out to eat some Chinese 😍 I was in loooove.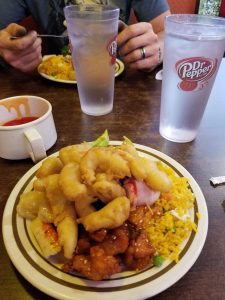 As you can see I just loaded everything  on my plate. I'm a fatty lol
But then we just came home and rented some movies in town and have been watching  them until  the yelling fest on the phone started so Nate went over there and they bitched at each other. I just leave it because if I say to settle down he gets more pissed.
Meh. Well, Office Party is playing right now and I'm not in the mood to watch movies anymore. I saw the last Underworld and was seriously disappointed  and just killed the mood for any other movies tonight especially  after the bitch fest. 😕
But I guess it could be since I slept only 3 hours again and I'm just tired and can't focus for long right now so maybe I'll just go to bed and watch the movies later. 
And for the he'll of it, 
This is me and Nathan 😊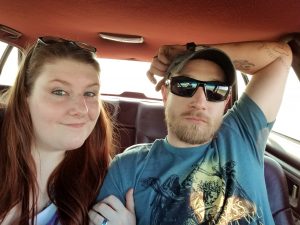 Hope everyone  has an amazing night!