A couple months ago (or so) I was contacted by a friend of mine (I taught her kid up through brown belt in jujutsu).  She owns an antique mall that happens to be maybe three blocks from my house.  She had a huge book section including a Local Authors area and wanted me to come do a book signing.  We set it up for this weekend as the 4th of July weekend here on the sunny Alabama Gulf Coast is flooded with people.   So, I bit the bullet, broke the budget and ordered a few more copied of Books 1 and 2 of my series (Book 3 not quite being out yet).  
She called me Thursday and told me the man who actually does the book section was there and wanted to meet me and maybe buy copies of my novel.  It was a rushed day for me as I've had a HELL of a time sleeping lately.  It's like I'm almost manic after dark and bounce off the walls until 0300 or so.  Well, I woke up at about 1115, jumping up and running because my Tai Chi class is at noon (I'm trying to be certified as an instructor and yes, I do it as the full on wushu martial art as well as the healing exercise thing that most folks use it for.  Anyway, long story/short, I was barely going to make it to class.  But then I saw I had an e-mail from the mall owner and made that fateful call.  Needless to say, tai chi had to wait (my instructor agreed).
   I went directly to the store and met with the book man.  He bought every single copy of my two books that I had on hand right then and there.  Wait, that deserves an exclamation point (!).  Yeah.  See, even famous, successful authors who go to such places consider themselves fortunate if they sell 8 books.  I sold eighteen in about two minutes!  Well, yeah, the actual show wasn't on yet, but in any case I was ahead.  
   Fast forward to today.  They had wine and cheese and soft drinks set up.  I abstained but did snack, have some ginger ale and no, I did not become the Great Cornholio because of the sugar.  My Tai Chi instructor and good friend showed up along with a fellow student.  My oldest and best friend, DR came by and hung out (he's a proof reader for me and I had to remind him he already had ALL of my books).  Courtney, my former oldest step-son's ex-girlfriend (I'll take her over that sorry excuse for humanity any day) came by and hung out too.  Said former step son came by just long enough to lie about everything in his life (but I give him credit that he thought to stop by).  Jan, my awesome and understanding paramour hung up until nearly the end of the show as she had to go to work at 1500.  At first I was telling her she didn't need to come.  I was the kid who didn't want parents or friends at my award ceremonies.  But I was glad she insisted (maybe I need to actually listen to her?).
   I sold about six books (I honestly lost count, LOL).  I gave out several of my business cards with the QR code for my Amazon store to many who weren't into a genre of fiction with graphic violence, historical monsters, and intense scenes of sardonic wit, but their husbands, brothers, etc. were.
  So, all in all, it's been a GREAT day!  I printed up a very professional looking author placard with a cool bio about me: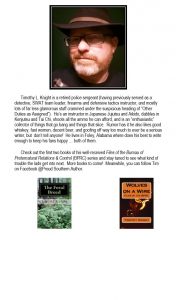 Yeah, I rock, I totally do.  Anyway, after the signing, DR gave me his modern repro of a Colt 1860 Army.  He's had it for probably 15 years and I've repaired it for him 2 or 3 times (frankly as I understand it the Colt's were infamous for needing repairs which is why I prefer my Remington 1858 New Army).  But he brought it to me not to repair but as a gift.  I was thrilled to receive it and it is currently sitting in pieces in a tray filled with penetrating oil.  His only caveat was that should I decide to go crazy and customize it into some historically inaccurate abomination of awesomeness, he gets to shoot it. This dude really rocks.
Jan came by my place after work and I had a nice dinner made (sort of a chicken, jasmine rice, and vegetable mix sorta thing … like my South Alabama sushi only without the wrap, not rolled, all in one pan and served in a bowl).  It was great.  We watched a movie (Batman Lego Movie) and had some Us time.  Then she sacked out and … wow … is it really after 0230 already?  Man.
So, yeah, great day, and I even managed to overcome my social anxiety and weirdness enough to enjoy it.  😀  Oh, and once I got home, I assure you, I stopped abstaining from wine … and other adult beverages.  😉