Monday, July 3rd 2017
Today was productive art wise.
I started my clean sketchbook where I wouldn't mind showing to people. The reason why I don't normally wanna show my sketchbooks are because they are full of terrible random doodles of trying to figure stuff out. Instead I'm gonna have one large sketchbook for those, and one marker one for my clean, final finishes and final studies. Here was the first thing I drew in my sketchbook :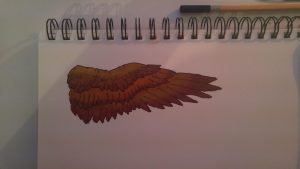 I'm a fan of the colours and I love the markers; they blend so well. The only thing is that I'm used to sketches, so I draw quickly and that results in going over the lines. I also added feather lines to it later that aren't really visible, but I don't like. I wish I stayed with just like this, but oh well. That's why I'm starting from the back of my sketchbook, so when people open to the first page once it's done, they see the more recent and better drawings. That's a tip I got from at person that was representing at comic con the college and program I wanna go into.
Other than that, I went on the server quite a bit. I also got a game from my second parents 😀 So that's awesome.
Gonna go to bed early later after I watch Supernatural, cause gotta wake up at 5am since I'm gonna be starting work. Instead of 1am, gotta be 10:00pm from now on, so I should be trying to sleep around 9:30pm if I want close to 7 hours of sleep.
That's all for today.