Saturday, July 29th 2017
Today was great!
My parents, brother, grandmother, uncle and I all went to the marketplace to see a special event called La Machine, which showed a giant mechanical dragon/horse, and spider! Yes, an arachnophobe actually agreed to go see a giant spider. It was actually incredibly impressive and amazing to see. I was expecting to be scared, but guess I wasn't, because I could see how mechanical and well built it was. Here are some pictures :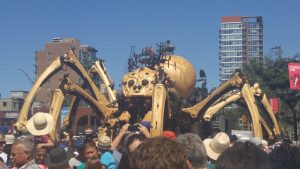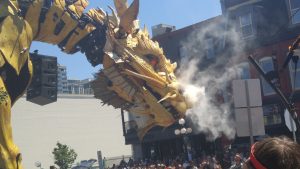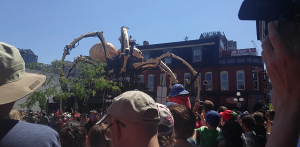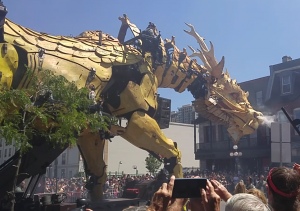 The dragon is called Long Ma and the spider Kumo. Long Ma was freaking majestic and she had the cutest roar with a joyful music theme. Kumo was more creepy, but its music theme was so enchanting and it was also more fascinating.
After chasing a dragon and giant spider down the streets, we went to search for a place to eat. There was so many people, but we eventually found a spot. I got Greek and shared with my mom. Then I left with my dad and uncle to take the picture for Kumo sleeping before we went into a store so my uncle could buy a Canada 150th hat. We then took the bus, transferred, and eventually got home. My uncle and grandmother left and I just went on my computer to try and do backups on my phone. It didn't seem to want to. All I really need to transfer though is my gallery. My dream journal and such I have to do by email, since my computer doesn't recognise the app, so I already did that.
I watched a couple of Supernatural episodes then found a beginning of an old story of mine. I wrote it when I was young, so it was hilarious to read. Let's say I didn't quite get the term "stare into my soul", and instead wrote "stare into my flesh".
That's all for today.