Seven years ago today a beautiful butterfly exchanged her colourful, fragile wings for angel wings. A hard working, true fighter through her deep depression who loved to dance and ride roller coasters. What I admired about her was how she carried on to the bitter end. She carried on taking classes, she carried on dancing, she did so much. I envied this so much, she could do so much and still never let the people around her know what she was going through; she battled alone in America. It shows such strength.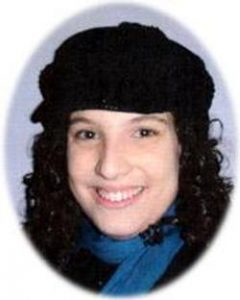 Jodi Shaw: 12th May 1989- 21st August 2010
http://obits.syracuse.com/obituaries/syracuse/obituary.aspx?pid=144873081
I still remember the moment I saw the e-mail from Jodi's brother. I knew by the title alone what had happened and I felt immediate, sickening guilt. I had had her last ever e-mail to me for a couple of weeks now and the thought of her wouldn't go away. She hadn't sent me a suicide note, but she'd said in previous e-mails that she had been making attempts. One night I couldn't take it anymore and I logged on to reply to her e-mail…and found an e-mail saying she'd committed suicide instead. I still wish I had replied the next day after I got her last ever e-mail to me, the next hour even, just not two weeks. I know she probably would have ended up doing this anyway but I can't stand it that she died without a reply to her e-mail from me. I didn't start reading the first couple of lines before I cried and cried. I was listening to the song above by chance when I was reading the e-mail seven years back but now whenever I hear it I instantly think of the moment I read the e-mail. The song doesn't even have anything to do with losing someone. Other members of Jodi's family got in touch, including a friend, thanking me for being there for Jodi…but I just felt more guilt. The agony these people were in, are in was a bit much for me, and I cried for a long time to myself about the loss of Jodi.
People think internet friends don't seem to count as real friends. I disagree because of my experience with Jodi. I met her through a different online diary site and she said she couldn't believe she'd finally found someone who was like her. She said I could understand. We e-mailed and were friends in Facebook. I wish I'd contacted her family on there or something about her suicide attempts but Jodi would always tell me never to reach out to any of her relatives or friends about her feelings…she said she's be devastated. I don't know whether I did the right thing or not. I was in Heatherwood Court when I met her online and we e-mailed each other for two years. She meant a lot to me because…she was honestly the only friend I had at that time when I was sectioned for the first time ever in Heatherwood. My freedom and rights had been taken away and all my friends moved on and lost touch with me. I was so alone in my 'prison.' There was the light of a friend in Jodi Shaw. She seemed genuinely interested in being my friend. I was determined to save her and get her through this. I saw a future she couldn't see anymore. I sent her the following song to try help her…just to let her know she certainly wasn't alone.
There is so much I wanted to know about her and I'll never get the chance. She didn't see it at the time but she was full of such potential, she was such a genuine, caring person. She committed suicide just two months after I was released from Heatherwood Court. I miss her and wish she was still here. I still posted on her Facebook…then her page was removed by her family…I understand, but I felt like I was close to her if I spoke to her on Facebook. I have left Facebook now myself…I can't talk to her so my last real reason to have a Facebook was gone. I remember when she died I didn't want the time to pass. I didn't want to experience one year since she died, two, three, four, five, ten, twenty…no, no, NO. I wanted her to stay close to me…the more time passes the further away from me she'll get. But here we are suddenly seven years since she died…is that really right?
I printed the e-mail Jodi's brother sent me and I have carried it folded up in my bag to go out for the last seven years. It is precious to me. The paper is seriously falling apart now. Two years after she died I did the only thing I could think of doing to remember her forever…I got a tattoo for her. In the e-mail Jodi's brother said the following poem was handed out at her funeral in her memory.
"A butterfly lights beside us, like a sunbeam.
And for a brief moment its glory
and beauty belong to our world.
But then it flies on again, and though
we wish it could have stayed,
we feel so lucky to have seen it."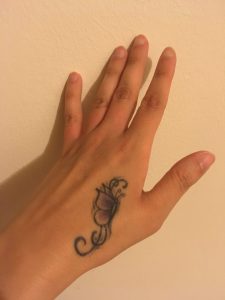 It sounds terribly selfish but I cling onto the words from Jodi's brother's e-mail to me… "You were one of the nicest people who ever stepped into her life. She truly expressed how she felt to you and really loved hearing from you. Your encouraging words and friendly gestures were what got her through most days." It gives me hope that somewhere in me there is still a person worth fighting for. I carry on for my son obviously…but since Jodi died I have carried on for her. Yes, she had that much of an impact in my life. Tears are now welling up in my eyes for real. I love and miss you Jodi, I wish I had replied to you sooner and I wish you were still here with the rest of us. You wouldn't be proud of who I have become but as long as I'm still alive that can change. I can be the person you e-mailed for two years. There is so much I wish I had known about you. Tears are pouring down my face right now for you, stunning, beautiful girl on the inside as well as on the outside.
I hope more than anything, since none of us can change the past, that wherever you are now you are not tormented by anything that caused you such despair here on this earth. I hope you are experiencing no pain whatsoever, just the peace you deserve.
I miss you. I love you.