Morning, I woke up with slightly itchy scalp. I ate some weetabix minis and drank a decaf tea with cow's milk as usual. As I did, areas where my facial hair regions are started giving jip. So I decided to wash my scalp and face with coal tar extract to eliminate stress as a catalyst. Sadly I made this decision after I was dressed. I managed to get my work jeans soaking wet in the process. I write this to you walking up the Kingsway looking as if I've pissed myself. At least the itchiness has stopped. That's not my biggest concern though for I fear the worst my friends as unfortunately I have a birthday coming up. I have this horrible feeling my work colleagues will think this is an appropriate time to fuss over me. The big 30 they say. If my stoic face doesn't convey my feelings I don't know what will. I hope they read this some day. People say I'm blunt, but that's only what I let them see. 
It's time for some roulette. The bus journey to work. I thought the internet was a miserable place, well welcome to the bus. It's like having a mini slice of London in Bristol. Contained in a moving metal box. Facial areas still a bit itchy.
I'm sat next to this attractive blonde so I'll just sit here and look smart whilst I hold my chin in my palm and nod occasionally approvingly at my phone screen. I spotted an elderly person struggling to reach for her bag opposite me. I reached over and lift it for them. I feel eyes from my side glaring at me "ah this will make me look gentlemanly", I grinned at the such a thought. As my vision refocused, I spotted her eyes and noticed they were locked onto my wet jeans. "Yes! It's not piss!" I proclaimed, she just looked at me disgusted and said nothing, I decided it wasn't worth elaborating. I'm afraid it's time to practice mindfulness so I'll write back later old friend.
The skin has been relatively fine all day. No break outs as such, some minor discomfort around facial hair regions. I had chocolate soy milk, 2 hobnobs and home made pasta and pepperoni cheese bake. 2 decaf teas. Work wasn't too stressful though a few problems irritated me. I was quite anxious most of the day but it didn't seem to trigger a breakout. I expected one. 
My work colleagues fussed over me for my birthday as was expected. My boss tried to play happy birthday music on spotify, oddly the media center machine wouldn't play it. He accused me of all people of sabotaging the computer. "It's part of my new I.T policy, Windows updates need to be installed this morning, sorry about that", was my feedback on that matter. One colleague brought me balloons and a birthday banner which I begrudgingly wore for the day. More importantly though, Charley, friend and colleague bought me a new cup with a very cool coding reference. My influence has at least rubbed off on someone. It actually brought a tear to my eye.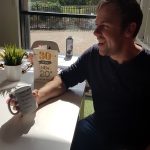 The cup reads "if tea is empty, refill, else, drink". 
I had a steak pepper slice and chicken and bacon slice for dinner from gregs. I'll make a separate entry for tonight at Wohn's house. Man will figure out how to time travel backwards before they will figure out the Wohn. Now there's an interesting man. Sometimes I'm not sure if he's the world's finest troll or the world's most misunderstood character. 
I was very anxious at Wohn's, I found it hard to sit still for too long. We watched the end of Torchwood and the start of Merlin. Skin didn't really play me up surprisingly. I was offered some lovely ice-cream with toffee sauce though, which I enjoyed.