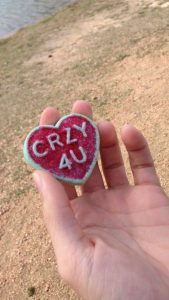 I have been praying for a woman like you to enter his life. 
To the one who loves him next,
In all honesty, a part of me wants to really dislike you. A part of me will constantly wonder why I was never the one for him, but you are. However, I wish nothing but the best for the two of you. I pray that you are everything he needs in a woman and so much more. I pray that you have a big heart and an old soul, just like him. I pray that you love him as much as you love Jesus, and if that is not a lot, then you are not the one for him sister.
He is unlike anyone you have ever been with before. I do not need to know who you are or who you have dated in the past to know that this is true. This new man of yours is a true gentleman. He does not play games, and neither should you. You know those tests we tend to do to check whether or not they love and appreciate us? Do not do them. He will do all that he can to show you that he loves and appreciates you. If you are willing to test him, then you clearly aren't paying much attention to him.
He is extremely silly. When it is time to be responsible, he will turn that switch on, but he loves to be goofy. He makes awful jokes, has the weirdest dance moves, and the most unique facial expressions. Never let him know you're ticklish (unless you really aren't) because he will constantly be attacking you when you least expect it.
He loves sports. If you ever catch him not paying attention to you, 100% of the time it's because he got a notification from ESPN. Baseball, football, basketball, you name it. He's into all sports. Be ready to have random footballs thrown at you when you aren't ready to catch it. Be ready for one vs. one basketball games. Be ready to play darts, ping pong, and pool for hours. Even if you aren't  good, just do it with him anyway.
He loves to hold hands. No matter what you guys are doing, just hold his hand. Hold his hand while driving, walking, shopping, and eating. He loves the little things.
He will be your best friend. You will want to come to him first for everything, and he will be there. He will pray for you. He will do all that he can to let you know that everything will be okay. He will check up on you when you are sick. He will do whatever it takes to make sure you are not unhappy. Appreciate him.
His family will become your family. Love his brothers. They will be the best brothers to you as well. Love his mom. She enjoys having another girl around. Love his dad. You may not talk to him much, but he sure does care about your relationship with his son. Love his dogs. They are the king and queen of the house.
He hates sarcasm. Even the slightest bit of sarcasm will have him questioning your intentions. When talking to him, please be calm. He rarely gets angry, but being in a conversation that has no resolution will irritate him. Tell him exactly what you want. Don't beat around the bush. He needs it to be direct, and he needs the problems to be solved immediately. Giving him the silent treatment for as little as ten minutes can make him really upset. He believes in talking EVERYTHING out, and he will tell you when he cannot understand what you mean. Communication is the most important thing in this relationship.
He loves God. He will pray for you every single night. He will send you the appropriate verses you should read when you're in a certain mood. He will constantly remind you that you are God's individual masterpiece. He will send you video links to help you understand why you are here, living on this planet. He will open up a whole new way of life for you. It will help you see the world through his eyes. Please let him before it's too late, and you're sitting behind a screen five months later, writing a letter to his next girlfriend. Please.
Enjoy all of the traditions you guys make together. There will be monthly trips to the same restaurant, sitting at the same table, ordering the same thing each time. He will serenade you on the piano even though his singing skills aren't where he wants them to be. He will stare at you at times with no explanation. He will stargaze with you, but spend more time focused on you than the stars. He will take you to parks just to sit at the top of the slides and ask you about your day. He will facetime you for hours, and he will fall asleep with the call still going because he can't stay up too late. He will randomly find rarely used emojis and send them to you. Don't even try having a streak on Snapchat with him. He will break it right when it starts. Ice cream dates are so important in this relationship. Be prepared to taste every single ice cream flavor possible.
He isn't a big social media guy. He doesn't enjoy being on your Snapchat story, and he doesn't like that you'll want to take pictures of everything. He'll ask you to put your phone away just so you can give each other all of your attention.
He is a HUGE Spongebob fan. His senior year of high school, he bought a Spongebob lunchbox, and it was his favorite thing ever. Everything in life will remind him of the show, so be ready to hear, "This reminds me of that one Spongebob episode when…". He loves Spongebob a lot. I can't really say much more about it.
You don't need to spend money on him. He loves you. It might have taken him awhile to say it, but he does love you a ton. He will tell you that he is not your happiness, so don't even bother letting him know. He will put Jesus at the center of your relationship, and he will want to marry you. Please love him more than he loves you. He does not deserve anything less.
I hope you understand that I was once someone so special to him. Someone of extreme significance. His first real love, as he was mine. I love(d) him unconditionally, and I hope that the memory of our relationship is forever etched onto his heart, as it is mine. Please hold onto his love as if it is the most fragile thing ever given to you.  I pray that the both of you may grow together, and for him to continue being the wonderful gentleman I came to love in a previous chapter.
Never let him go, and continue to fight for him.