I know, I know… Two entries in one, and I said I wouldn't anymore. But I was up late last night, even more than today, so I was too exhausted to write one. I was up until like, 1am playing games haha.
Friday, September 29, 2017
This day was mentally draining.
I started with technology. I managed to figure out a firefly problem in Blender.
In English we corrected and read as usual, nothing new.
At lunch I sat with Kohai and her friends. We studied French, since we had a quiz later, but not before a math test! I think I did okay? I'm not sure what to expect, since the one before I thought I did fine, but I didn't. I didn't have time to revise or do the bonus question that I know I could have done. Oh well… I'll just hope for the best.
In French we had a quiz and compared to math, it was a lot easier. I had to bs a couple of questions, but overall I think I did fine.
At home I just relaxed. I played games, I also drew again! I badly needed a new Twitter avatar, so why not make a Halloween one, right? I love it so much. It's the kind of style I wanna do more. Out of all the art pieces I ever made, this one is probably my favourite, because it's more my style. It incorporated four styles that I like a lot : inking, no outlines, sharp lines and minimalistic colours!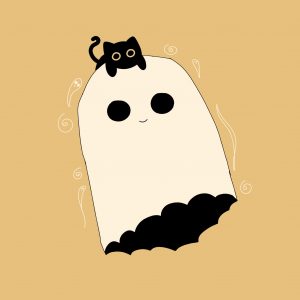 I watched The Prince of Egypt with staff and my brother, then staff and I played Cards Against Humanity. We play it often and even though it's vulgar, we know each other to be good people. We also know when some cards are going too far. We always have tons of fun playing it.
Saturday, September 30, 2017
Today was a bit cringy.
I had my driving lesson. I almost hit a car and almost passed in front of pedestrians walking. I also misheard my instructor repeating what he said four times… I kinda teared up a little from messing up so much and being stressed cause of that. My instructor noticed I'm sure, but carried on like nothing was happening (thankfully). He probably delt with that before, haha. Later on it went by a little more smoothly though. It seems I'm doing fine with my turns, I just need to watch what the heck I'm doing.
Afterwards I just watched a lot of videos and tried to decompress. I watched a couple of Supernatural episodes after making supper with my brother, which was just kraft dinner with sausages. Then I played some Rocket League with my second parents and now I'm going to bed.
That's all for today.